Green Thumbs—Every Child Needs Two!
Ruth Ng
Friday, May 03, 2013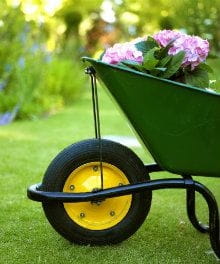 Intergenerational Gardening: Children learn so much from their elders, and this is essential for the positive growth of a child, helping to build strong relationships with people of all ages. These are true social skills.
Plant a Row to Feed the Hungry: Designate part of your garden as the spot to raise fresh produce to give to the local soup kitchen or food bank. With so many hunger problems in our world today, use this opportunity to teach compassion and sharing.
Fabulous Fundraising: Pick a cause, and do some fundraising by having a plant sale. Plants that grow well from seed and look really nice are the pepper varieties. Sunflowers, beans, cosmos, and tomato plants are easy to grow as well.
Good Deeds With Seeds: Grow some flowers, and deliver them to a children's hospital or a nursing home. Important elements of this project include adding a card to explain that your child planted the flowers from seed, learned about their stages of growth, and then personally delivered the flowers. You may be surprised by the eternal impact this may have on someone's life.
Giving Back to the Community: Sometimes nursing homes will have a garden for the elderly to enjoy. You can volunteer together to work on a small part of their garden to teach your children about having a heart for the elderly. You and your children may learn something from them! Or how about starting up a community garden with your homeschool group?
Hidden Treasures: There is something compelling to children about digging for treasure. Having a potato garden is so much fun for the kids! One section of the garden could be the "Hidden Treasure" garden, featuring only those plants that you gotta dig for, such as carrots, beets, and radishes.
That Quiet Resting Place: Creating a special, quiet spot in the garden brings great joy to the family. Pole beans grow well and can be trained to grow over a homemade teepee; make sure the teepee is big enough for children to play in the middle. A sunflower house is a popular structure to make for kids also.
But I Have Nowhere to Plant a Garden!
With little or no access to land, it is possible to grow a selection of favorite vegetables, fruits, herbs, and flowers. Mini-gardens can be created on decks, patios, balconies, and windowsills using containers. Growing plants vertically is another option, as well as trying out dwarf varieties. The children and I like to snoop around in garden stores, and one time we saw a doghouse on display built so that the roof could be used as a raised garden bed—it is amazing what can be turned into a garden! There is a different style of gardening for every family. Find out which kind suits your land space, lifestyle, time, and interests.
Get That Gardening Bug!
With too much exposure to the virtual world, kids may not be interested in the natural world. Capture their interest with a collection of unusual plants. Start with the seed catalogue. There are many resources available on the Web, but nothing can replace a real, printed catalogue. Order a variety of catalogues from different companies, and help the children compare prices, choose the best deal, and learn about the benefits and disadvantages of organic vs. treated seeds.
When the fun of ordering the seeds is all over, recycle those seed catalogues in creative ways. Turn them into games, or they could be used for making row markers. Design your garden on the living room floor by using cutouts from the catalogues.
Eternal Seeds
Gardening is an art that sings a symphony of beauty. On this living canvas, we can paint with flowers and good things to eat. Through the garden, the Lord is a grand teacher and we, the students, are never too young or old to start learning. Every seed, every plant, has a story to tell, and even the smallest flower can make you marvel. The love of gardening, once sown, will blossom into an eternal source of happiness.
Have something to say about this article? Leave your comment via Facebook below!
advertise with us
Example: "Gen 1:1" "John 3" "Moses" "trust"
Advanced Search
Listen to Your Favorite Pastors