Growing Our Homeschool
Chris Oldenburg, Author
Friday, April 26, 2013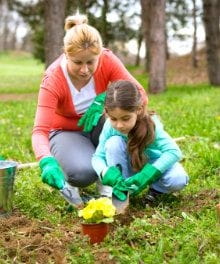 Gardening is a mirror of our homeschool journey, both requiring the understanding that small seeds, heaps of faith, attention, and a dose of humor lead to bountiful harvests. Our homeschooling adventure is much like the gardens that surround our family home. They are not always orderly, flawless, or some days even presentable, but they provide us with opportunities to grow and then we reap beautiful harvests.
My mother instilled in me a sense of appreciation that can come only from the opportunity to plant, nurture, and watch a treasure blossom. While I didn't always want to pull weeds from the bean rows or hoe between the squash plants, I did learn to appreciate the efforts and rewards of gardening.
So much of life is reflected in a garden, and as I began my new journey in life as a mother, I found myself going back to my roots. Those lessons from my mother about sowing seeds, nurturing fragile life, and finding joy in the fragrance and abundance of it all could be said about gardening, as well as mothering and homeschooling.
In 1976 my grandmother wrote a simple note in a book about gardening and gave it to my mother: "To Kathy, who proves you can't take the country out of the girl, even a generation later." I received that same book in 2000 from my mother, with my own special note and the gift of a tradition to pass along to my own children one day. The book has wonderful chapter titles, such as "The Healing Hoe" and "The Magic Story of Seeds."
During the ten plus years I have homeschooled my children, I have gone back to those roots and applied gardening to our core curriculum. As toddlers digging in the dirt at my toes, the kids carried on conversations with bugs, small stones, and the cloud shapes above. Gardening with very young children sometimes just means spending glorious days in the spring sun, sharing secrets with the wind, and turning empty seed packets into treasure maps, garden flags, and sleeping bags for pet rocks. The weeds may still come, but the kids will grow as well when they spend time outside, learning to be stewards of the soil and enjoying the nature that God has provided.
As soon as they were able to walk and dig, the kids wanted their own garden spaces. I have learned over the years, and through many weed-filled rows, that the smaller the child, the smaller the gardening space should be. We found an inexpensive and easy method for the kids to have their own garden spaces and be able to flourish with them. We purchased sixteen recycled shelving boards from a local Habitat for Humanity ReStore for $4, and the kids, their dad, and a few hours in the garage honing measurement and carpentry skills yielded four bottomless, raised garden beds. Each measures about 3 feet x 3 feet and sits atop the garden topsoil, 15 inches in height.
The carpentry lessons soon turned into science-filled tasks of researching natural fertilizer options and recipes for garden filler. The kids all chose their own special blends, many of which included manure, shredded paper, egg shells, and other compost materials, and of course wonderful dirt.
These raised garden beds provide so many advantages for the kids. The boxes clearly define each personal space and are easier to weed, but more importantly, they generate fewer weeds because the boards create a natural barrier between the mini garden and the volunteer plants that try to creep right along and snuggle in with the produce.
The planting choices of each child articulate so well their personalities that it is like looking into a window to their hearts. My oldest son is extremely conscious of family, and his garden box reflects that. He planted kohlrabi because it is his father's favorite, onions from the seeds of his grandmother's plants, and Brussels sprouts because he heard tales of woe and giggles about his aunt detesting them at the dinner table when she was a child.
Have something to say about this article? Leave your comment via Facebook below!
advertise with us
Example: "Gen 1:1" "John 3" "Moses" "trust"
Advanced Search
Listen to Your Favorite Pastors