Growing Our Homeschool
Chris Oldenburg, Author
Friday, April 26, 2013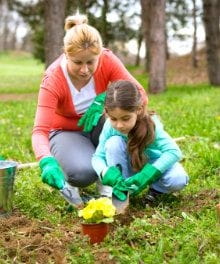 My daughter, a thoughtful and practical child, planted lettuce for our family, as salad is a regular menu item in our home. The garden box of my middle son has a little bit of a lot of things, much like his coveted storage box under his bed, and he has also decided to donate some of his produce to a local food shelf. Then there is my dear, young, artistic child who sees the world through what must be mesmerizing lenses and therefore planted white pumpkins—simply because they are unexpected.
One of the most rewarding benefits of gardening with children is growing their pallets for healthy food choices. My children have repeatedly tried new foods, only because they were more excited about the growing and harvesting than they were hesitant about the new textures and tastes. The kids are conscious and aware of the varieties of items in the produce aisles and at farmers markets and how they might have been grown, as well as why living in Minnesota does not allow us to produce wonderful mangoes in the backyard.
Four garden boxes have turned into almost a dozen, one of them constructed in secret by my children and presented to me as a gift. Homeschooling and gardening are intertwined in our lives, and the parallels are innumerous. Each homeschool, like each garden, is unique in size and vision. Our homeschools require diligence and energy, and our children reflect the attention we provide in their education and formation. If we don't put in the time and persevere, rarely will our children grow well without us.
Just as we fertilize our gardens with compost and other materials, we provide our children with the nutrients of faith, love, patience, and the tools with which they can succeed. And like those garden boxes, our homeschools offer our children their own personal space in which to bloom, protected from intrusions, yet allowing their own abilities and passions room to grow.
My homeschooling adventure would simply not be as enriched or rewarding without gardening, whether it is in the fruit and vegetable gardens with my children's boxes or my flower beds, where the children skip through to admire butterflies and my lesser favorite, snakes. Homeschooling parents, however, do not have to display green thumbs in order to successfully use gardening in their curriculum endeavors. Gardening reflects a basic principle of life through which many wonderful lessons can be taught, even without so much as a fraction of an acre of land. Varieties of books, windowsill gardens in paper cups, and fluid conversations about growth and development can all be cornerstones of garden curricula. We reap what we sow, both in our beds of soil and as we teach our children to grow, flourish, share bounties, and overcome the weeds, and homeschooling allows for the perfect combination of these elements.
I enjoy my own personal holiday when the first seed catalogue arrives in the mail, somehow always just in time to save me from feeling that the frozen Minnesota winter will never cease. On a random day in midwinter, I will savor the pages of color and lose myself in thoughts of warm soil, sun, and the smell that can come only from freshly turned earth. Then I get a homeschool mom chill up my spine and an inspiration for a lesson creeps into my frosty brain. Reading and watching The Secret Garden, studying artists who painted flowers, and collecting building plans for more boxes and perhaps birdhouses are all activities that help open my children's hearts and minds to the beauties of gardens. The anticipation grows until I do what homeschool moms do: I load the kids into the van and venture to the library (and sometimes the nursery) to begin another chapter in our adventure.
"Build ye houses, and dwell in them; and plant gardens, and eat the fruit of them" (Jeremiah 29:5).
The Secret Garden
Have something to say about this article? Leave your comment via Facebook below!
advertise with us
Example: "Gen 1:1" "John 3" "Moses" "trust"
Advanced Search
Listen to Your Favorite Pastors