Growing Our Homeschool
Chris Oldenburg, Author
Friday, April 26, 2013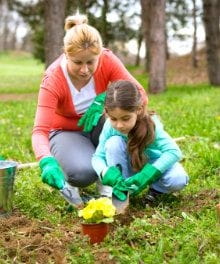 This classic story written by Frances Hodgson Burnett and Sandra M. Gilbert is a tale of children who discover the joys of friendship, the pain of loss, and the definition of family amid the secret paths and branches of a hidden garden.
Unit Study Ideas for The Secret Garden
Begin by discussing what it means to have and to keep a secret. Age-appropriate discussions might include topics such as the differences between fun secrets for birthday gifts and secrets that might be harmful or dangerous.

Have your children create their own secret gardens. Give each child a pot to fill with soil and an assortment of seed packets from which to choose (out of sight from the other children). Each child can plant the seeds, care for them, and then see if family and friends can guess which types of seeds are growing in their pots by the look of the seedlings emerging. See if their guesses change as the true leaves begin to form and telltale signs of plant types emerge. This is a great lesson for practicing the idea of a hypothesis, with each child recording his own observations and checking to see if his hypotheses are correct.

Use paper cups or small pots and have your children prepare Garden Gifts (the kids can decorate the cups with stickers or markers). Add dirt and choose the seeds of small, yet hardy, flowers to add to the mix. Place plastic wrap over the top of the cup and secure with a rubber band. Have the kids prepare a note explaining that they are sharing the joy of gardening through these Garden Gifts, and all that is needed is to add water, sun, and attention. These make great holiday gifts or special tokens of appreciation.

After reading the book either independently or as a group, watch the movie and discuss observations about the differences, similarities, and opinions of each version.
Seeds, Plants, and Gardens Booklist
Every great unit study in our home is not complete without a few wonderful books. In fact, reading a good book can be the best way to start a unit study. There are numerous titles from which to choose, but a few of my favorites are included here, some for each age and academic ability range. Whether you read aloud or have independent readers, head out amid the plants and dive into a great book!
Titles for Young Readers and Listeners
The Tiny Seed by Eric Carle
Pumpkin Circle: The Story of a Garden by George Levenson and Shmuel Thaler
Jack's Garden by Henry Cole (and lots of other versions about Jack and the Beanstalk)
One Watermelon Seed by Celia Barker Lottridge and Karen Patkau
Dig and Sow! How Do Plants Grow? Experiments in the Garden (At Home With Science) by Janice Lobb
Sow and Grow: A Gardening Book for Children by Tina Davis
From Seed to Plant by Gail Gibbons
A Seed Is Sleepy by Dianna Hutts Aston and Sylvia Long
A Fruit Is a Suitcase for Seeds (Exceptional Nonfiction Titles for Primary Grades) by Jean Richards and Anca Hariton
How a Seed Grows (Let's-Read-and-Find-Out Science 1) by Helene J. Jordan and Loretta Krupinski
Seeds! Seeds! Seeds! by Nancy Elizabeth Wallace
From Seed to Plant (Rookie Read-About Science) by Allan Fowler
How Many Seeds in a Pumpkin? by Margaret McNamara and G. Brian Karas
Oh Say Can You Seed? All About Flowering Plants (Cat in the Hat's Learning Library) by Bonnie Worth and Aristides Ruiz
The Magic School Bus Plants Seeds: A Book About How Living Things Grow by Joanna Cole, John Speirs, and Bruce Degan
The Dandelion Seed by Joseph P. Anthony and Cris Arbo
Berries, Nuts, and Seeds (Take Along Guides) by Diane L. Burns
Have something to say about this article? Leave your comment via Facebook below!
advertise with us
Example: "Gen 1:1" "John 3" "Moses" "trust"
Advanced Search
Listen to Your Favorite Pastors