Homeschool Home Economics
Cindy Puhek, Homeschool Enrichment
Wednesday, November 02, 2011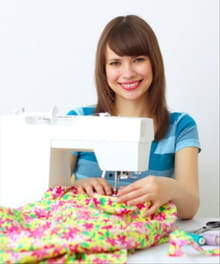 Why I picked the octopus pillow for my seventh-grade home economics project, I will never know. I guess I thought it was cute, and I chose it not realizing the curves of the legs and body would make it a more difficult sewing project than some of the other options.
I found the sewing very difficult, and to add insult to injury, I, the straight-A student, received a B on my rather angular octopus. This first experience on a sewing machine so traumatized me that I decided it would be my last project on a sewing machine, and I hardly touched a sewing machine for most of my early adulthood.
Twenty-four years after my junior high sewing experience, I was sitting at camp with a group of homeschooled families. Downstairs, one family was giving a demonstration on how to make a tiered skirt without a pattern. Later, we heard from a young teenaged girl who had her own business selling custom totes and aprons she made herself. When this girl was 9, she sewed all the clothing worn by the bridal party in her sister's wedding. At this time, I did not even own a sewing machine. But these lovely families planted a vision in my heart to make my home a place of productivity, not just for myself, but so I could pass these skills on to my daughters.
I could have found lessons and classes for my daughters to attend that would teach them the homemaking skills I lacked, but this was an area I felt God was leading me to tackle for myself. I knew my daughters would be more interested in learning if I led by example. I also wanted to learn because I had always felt a little crippled by my lack of homemaking skills. It was frustrating to not be able to efficiently mend a tear in a seam or hem a pair of pants. I wanted the freedom homemaking skills would give me to be more of a do-it-yourselfer. From families like those I observed at camp, I also began to see that homemaking skills could really enrich a home by equipping a mom to be creative and industrious.
Now I had the vision to learn, but I was 37 years old and had two children under 2. Since I was needed at home and couldn't attend formal classes on a regular basis, I set out to find ways to learn sewing, knitting, and crocheting on my own. With God's blessings, I learned all three skills in one year and now make clothes for my children and crochet Christmas gifts.
Here are a few of the resources God led me to while I was setting up my homeschool home economics course.
My first step in learning how to sew was acquiring a sewing machine. Originally, I purchased my sewing machine online, but my online shopping experience was not a good one. I don't know if the machine arrived broken or if my incompetence quickly broke it, but I never sewed a seam with that machine. For my next attempt, I went to a small sewing machine store in town. A nice saleslady helped me select a beginner machine that had the quality of more expensive machines, but not the bells and whistles. She spent half an hour letting me try out the machine and sew some seams, and she signed me up for a free "Get to Know Your Sewing Machine" class that was offered at the store. The sewing machine I bought from the sewing store was three times the cost of the machine I bought online, and it was worth every penny.
Next, I selected a sewing curriculum. The book that worked well for me was Sew Fast, Sew Easy by Elissa K. Meyrich. The author teaches a sewing school in New York City, and when she could not find a textbook she liked, she decided to write her own. The book comes with patterns to complete three projects: a pillow, a tote bag, and a skirt. Detailed step-by-step instructions are given about how to purchase supplies and how to read a pattern. The author does a good job of assuming the reader knows nothing, as was definitely true of me! When I had worked my way through the book, I was competent enough to read a simple pajama pattern I purchased from the fabric store.
Have something to say about this article? Leave your comment via Facebook below!
advertise with us
Example: "Gen 1:1" "John 3" "Moses" "trust"
Advanced Search
Listen to Your Favorite Pastors