Homeschool Home Economics
Cindy Puhek, Homeschool Enrichment
Wednesday, November 02, 2011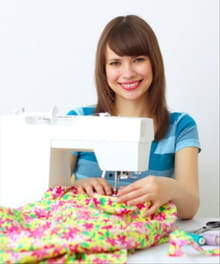 If you can spare the time, many fabric stores offer sewing classes. I was able to take a beginners' class and met a wonderful master seamstress named Ann who cheered me on through a couple of projects. But I found that after completing Sew Fast, Sew Easy, I could have completed those beginner projects on my own—so don't feel you must take a class in order to begin sewing.
After my sewing skills began to develop, I wanted to expand and learn some handwork skills. I particularly wanted to tackle knitting and crocheting. I once read an article by Janet Hulcy of KONOS curriculum in which she encouraged adults who wanted to learn something new to go to the children's section of the library. Adult books always seem to assume the reader has a certain base of knowledge, whereas children's books teach the basics. My 12-year-old niece had taught herself to knit using a "learn to knit" book by Klutz. I purchased both the Klutz knitting book and the Klutz crocheting book and successfully learned the basics of both skills. One of nice features of Klutz books is that they come with all the supplies required to complete several projects. The yarn aisle at the craft store can be mighty intimidating and expensive to someone just learning, so it was very helpful to have the correct supplies already purchased for me. These books also contain a guide to help the reader purchase additional supplies when needed. The colorful, detailed, step-by-step instructions in these books helped me begin knitting and crocheting after only a couple of hours' practice.
Knitting and crocheting are wonderful skills. Unlike a sewing machine, yarn, needles, and hooks are portable and can go anywhere. I find taking a useless piece of yarn and turning it into something beautiful and functional very satisfying. I continue to follow Janet Hulcy's sage advice and look for patterns written for young knitters and crotcheters. I'm slowly learning to read a pattern, and I'm currently creating granny-square scarves for potential Christmas gifts.
I've been amazed at how much these new skills have added to our family life. We have a lot of fun choosing fabrics and patterns for our projects. One of my daughters loves monkeys and another loves horses, and it's been gratifying to make them outfits out of monkey and horse motif cloth. While some may argue that it's often more cost-effective to buy clothes ready-made than to sew them, I could not have purchased these special outfits for any price. It's also very freeing knowing we can make for ourselves the clothes we like to wear even when those types of clothes are not in style and so are not available in the store.
My daughters, as I had envisioned, are starting to pick up these skills for themselves. In our entertainment-driven culture, it's wonderful to see them choosing to use their free time to do something productive.
I've used many of the same resources to teach my children that I used to teach myself. The sewing books by JoAnn Gagnon have also been very helpful. Her book Catching the Sewing Bug is full of simple projects for beginning seamstresses and can be used with children as young as 4. As I began to teach my own children homemaking skills, I started having opportunities to teach other children and teenagers as well. It's been my observation that girls are anxious to learn these creative skills, but many moms are ill-equipped to teach because they never learned these skills themselves. I never imagined when I was out purchasing my sewing machine that it would open up chances to minister and be a blessing to other families.
I think there's something good for the soul about working with one's hands. The Bible backs that up, and in one of many passages describing the importance of industry, the virtuous woman is described as one who "works willingly with her hands" (Proverbs 31:13). Teri Maxwell of Titus 2 Ministries once said she enjoys sewing because it's something she does that "stays done." Most of the tasks a mother tackles, such as cooking, washing dishes, and doing the laundry, must be done over and over again. It's rewarding to complete sewing or crocheting projects that don't have to been done over in short order. My girls and I have also found we enjoy the creativity and productivity so much that we're excited to learn other skills, such as cake decorating, embroidery, and quilting. The rewards to both my family and myself have made the effort required to create our homeschool home economics course infinitely worthwhile.
Cindy Puhekresides in Colorado Springs where she spends her time working as a help meet to her beloved husband and training her 5 children to be warriors for Jesus. Cindy earned a masters degree in chemistry and had a career teaching science classes before realizing God's highest call on her life is to invest her gifts and talents to make her home a place of ministry and industry and refuge. You can visit Cindy's blog at www.hseblogs.com/cindy.
This article was originally published in the Mar/Apr 2011 issue of HomeSchoolEnrichment Magazine. To learn more, and to request a FREE sample copy, visit www.HomeSchoolEnrichment.com
Have something to say about this article? Leave your comment via Facebook below!
advertise with us
Example: "Gen 1:1" "John 3" "Moses" "trust"
Advanced Search
Listen to Your Favorite Pastors