Homeschooling in a Foreign Land
Effie Damianidou Hill, Author
Friday, June 07, 2013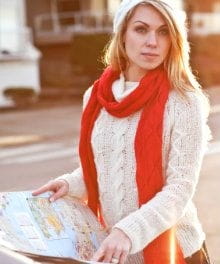 We all know that home educating our precious children comes with certain responsibilities: choosing the right curriculum, running the household, teaching, character training, and so on. It's all part of the package when we respond to this calling. Now, add to all these the unique venture of homeschooling in a foreign country. An entire new set of challenges gets added into the mix. That is the situation in which I found myself a few years ago. My foreign country just happened to be the United States!
I laugh when I think back to my first interaction with a homeschool mom. I was a foreign student still in graduate school when we met. She proudly showed me her attic, which she had turned into a schoolroom. I wondered why someone would have such a room in their house. I assumed it was where the children did their homework; the concept of homeschooling was entirely alien to me.
Fast-forward several years—one marriage to an American, and three children. I had now been living in the U.S. for a total of seventeen years and had heard several accounts from friends about how God had led them to home-educate. This aspect of American culture (like root beer and peanut butter) no longer seemed quite as foreign to me. Although I had developed respect for the decision to teach at home, my husband and I opted for private Christian school. My hesitations, I'm sure, reflected many of the same hesitations others have: Can I do it? Can I stay sane while doing it? What about socialization? Actually, what about my socialization?
I had an additional qualm that spurred some earnest soul and Bible searching: I (unlike all the other homeschoolers I had met) am not American. Could I bring myself to teach these children to spell colour without a u? Horror of horrors! What would my own high school English teachers think?
My husband had encouraged me to home-educate, but he had met with a lot of resistance (from me). I had to figure out if homeschooling was another American tradition...like Thanksgiving! I loved turkey and stuffing, but I still did not like pumpkin pie.
I decided to go to the Bible and see what it had to say. I saw Deuteronomy 6:6–9 in a new light: "These commandments that I give you today are to be on your hearts. Impress them on your children. Talk about them when you sit at home and when you walk along the road, when you lie down and when you get up. Tie them as symbols on your hands and bind them on your foreheads. Write them on the doorframes of your houses and on your gates" (NIV). How do parents truly obey this command when they are handing their child over to, basically, a stranger for most of the day?
This Scripture was a call to all parents, regardless of culture, and I had a unique opportunity to live out this Scripture. Homeschooling is illegal in my home country of Cyprus. I finally realized the privilege I was being offered and responded with a "yes" to the Lord.
Several other Scriptures also spoke to my heart, verses that transcended culture and addressed child rearing, regardless of geographic boundaries. Proverbs 22:15 states that "foolishness is bound up in the heart of a child" (NKJV). So how does one justify placing a bunch of young fools together for most of the day during their formative years, especially in view of 1 Corinthians 15:33: "Bad company corrupts good character" (NIV). We had seen for ourselves the effect of a couple of years of mass schooling, albeit at a private Christian school, on our oldest son.
Still, there were hurdles to overcome. In God's time, as I would come across a piece of the homeschooling puzzle that did not seem right, He would replace it with one that would fit perfectly. The question of heritage was one such piece. I would of course teach my children their American heritage as well. I loved many things about the U.S. and had an appreciation for its rich history, but there were certain things I simply could not relate to. For example, many American homeschoolers I met spoke at length about their Christian roots and tied it in to their homeschooling journey. What was my heritage? Legend has it that about a mile from the place where I was born, the Apostle Paul received a beating for preaching the Gospel. Hardly something to be proud of, I reasoned. So since I did not have that same rich Christian heritage, how did it all fit together?
Have something to say about this article? Leave your comment via Facebook below!
advertise with us
Example: "Gen 1:1" "John 3" "Moses" "trust"
Advanced Search
Listen to Your Favorite Pastors