How Technology Will Revolutionize the Way You Homeschool
Paulie Suarez
Friday, August 17, 2012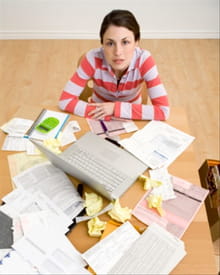 First, Amazon's Kindle. You may have heard of the Kindle—it was one of the first mainstream e-readers on the market. Amazon actively marketed this product as the ultimate e-reader. They also built a huge library of digital products (more than 670,000) that could be bought and downloaded to the device wirelessly and effortlessly. There are three models of the Amazon Kindle, ranging from $139 to $379, and all three hold around 3,500 books each. The least expensive, lower-end model has WiFi and a 6" screen, while the highest-end model has WiFi and free cell signal access (no contract required), which allows you to download more books without having to be located nearby a WiFi hotspot, plus a huge 9.7" screen to boot.
All Kindles have a very primitive, annoying web browser for light site viewing that makes me feel like I'm back on Windows 3.1. Nothing fancy here, but hey, it's just an e-reader. Interestingly, the Amazon Kindle does not have a color screen but instead a super sharp, high-contrast, e-ink screen that some say is easier to read than a color screen. Not having a color screen is a disappointment if you intend to use this device for anything other than reading black and white text.
Next up, Barnes & Noble's Nook. Barnes & Noble's Nook is the new kid on the block. They saw what Apple was doing with their iPad (which I'll get into below) and Amazon with their Kindle and tried to make a hybrid of sorts. The Nook sports two screens! The first main reading screen is the acclaimed colorless e-ink screen for easy reading (6"), and the second one is a smaller (3.5") color touch screen that sits right below the e-ink screen, mainly used for input. While this would seem like the best of two worlds, it's really not. This second touch screen is both a blessing and a curse. It's "clumsy at best" touch interface can be laggy and makes controlling the device difficult. But at the same time, it offers more usability than the Kindle in most cases due to the fact that this screen can double as a touch keyboard, an extension of the e-ink screen, or even as the control for the navigation. Also, you can select any part of the e-ink screen to show up on the color screen whenever you want to view a picture, graph, or webpage better.
Ah, yes, webpage. The Nook's browser feels more "complete" (due to its second, color screen) and is a little bit faster than the Kindle's browser, but not by much. The Nook comes in two models, the WiFi-only model for $149 and the WiFi+3G cell (again, contract-free) for $199. Both models carry only 1,500 books, which is considerably less than Amazon's Kindle can carry. But the Nook has an expansion slot to upgrade the storage capacity significantly, whereas the Kindle does not. In addition to having instant access to a huge online library/store (more than 400,000 books), the Nook is backed up by Barnes & Noble's physical stores. Taking your Nook into a Barnes & Noble bookstore makes additional content (such as free E-Books) available right from the device.
Finally, Apple's iPad. Wow, this is a big one. By the time this article comes out, the new second-generation iPad should be the latest news, but unfortunately I have only the first-generation iPad to talk about here. I guess I'll start by saying that this really isn't an e-reader, per se. I mean, it is, but it's so much more than that. Apple's iPad is more like a souped-up smart phone or a slimmed-down computer. This really is a whole different animal but still deserves to be in this article since it's dominating parts of the E-Book market right now. Well, it's dominating more than the e-reader market; it's destroying sales of competing tablets, netbooks, and even smart phones. But let's put the iPad's flaming success aside. Why is the iPad so special? How can you use it to educate your child?
Have something to say about this article? Leave your comment via Facebook below!
advertise with us
Example: "Gen 1:1" "John 3" "Moses" "trust"
Advanced Search
Listen to Your Favorite Pastors