How Technology Will Revolutionize the Way You Homeschool
Paulie Suarez
Friday, August 17, 2012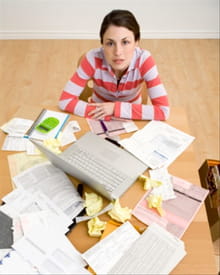 First, if you haven't seen the iPad, it's important for me to describe it, in order for you to understand how it can be used. The iPad is all screen. Yep, you're literally holding a giant, backlit, 9.7", color screen, but it's as thin as a pencil (0.5" thickness). The iPad has hardware specs that are more comparable to your old computer than to an E-Book reader.
Warning. Geek zone! The iPad has a 1Ghz A4 processor specially designed by Apple for the iPad, *probably*—not officially announced but tests show a total of 256mb of RAM, and up to 64gigs of storage space.
Now these specs might not seem all that exciting in a computer, but in a device like the iPad, running an efficient OS (i.e., operating system) like iOS4.x, these specs are great (IOS is the operating system that Apple uses on their iPhone, iPodTouch, and iPad)! With all this said, it's no surprise to find that the iPad has the poorest battery life of the three e-readers, with only ten hours of constant use (both the Kindle and the Nook are said to last for weeks). The iPad is also considerably heavier than the others (1.5 pounds compared to the others at about 11 ounces each). So you might get tired faster holding it for extended periods of time. Also, don't expect it to cost the same as these other e-readers. The iPad will run you anywhere from $499 to $829! Another added expense is a monthly fee for cell tower use (optional). This is understandable, though, since you'll be doing a lot more than just downloading books with an iPad.
But more important than the hardware are the operating system and apps that the iPad runs! The iPad is (currently) running iOS 4.2, which is one of the most futuristic mobile operating systems in the tablet/e-reader market. IOS 4.2 has the most intuitive, user-friendly interface; has probably the best mobile email client I've ever used; handles WiFi and printing effortlessly; and has the most up-to-date, advanced mobile browser. Period. (I'm not going to go into the lack of Adobe Flash in this article. For those of you who know what I'm talking about, just know that HTML5 is the answer.)
Okay, still wondering how this can be used in your homeschool? Well, here's where it gets good.
Apps, BookStores, and the Web
On top of a great OS, Apple also has its own proprietary application store, the App Store (creative name, I know). I will talk about this a lot more in Part Two of this article, but I wanted to mention that this could be the single most valuable mobile source for education on any e-reader.
Apps are basically little programs (like the ones on your computer) that run on your IOS device. If I search for educational apps on the App Store, instantly I get results for geography quiz apps, history apps, ABC alphabet kids' games, etc. On top of this, both Amazon and Barnes & Noble have their own bookstore apps in Apple's App Store. So not only do I have a wealth of educational apps, I now also have access to all the competitor books as well. In addition, Apple recently launched their own proprietary e-bookstore app called iBooks, and their library of books is growing very quickly.
As if this weren't enough, since you have an Internet browser, you also have access to Google Books, which is currently the world's largest online library, containing more than ten million books! Many of these are totally free. I will talk more about Google Books and the many other online resources the web has to offer in Part Two.
Anyhow, it's hard to explain the value of this, but the amount of hands-on, tutorial-oriented, educational apps on the App Store is phenomenal. For example, I needed help with my Java programming class, and within seconds I had a step-by-step Java programming tutorial in my hands helping me better understand the subject. This is a major resource.
Have something to say about this article? Leave your comment via Facebook below!
advertise with us
Example: "Gen 1:1" "John 3" "Moses" "trust"
Advanced Search
Listen to Your Favorite Pastors