Summer of Fun: A Natural Nature Study
Kathy Reynolds, The Old Schoolhouse Magazine
Tuesday, August 16, 2011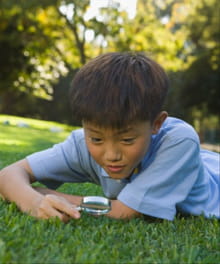 Yay, school's out! No more workbooks for a while. Time to relax, let the boys play, and give this over-worked mom and teacher (me) a chance to unwind and shift gears . . .
So went my usual reflections upon reaching the end of another homeschool year, though that particular summer we accelerated our busy lifestyle and moved from the faraway Northwest to a new state—Arkansas. I had much to do, setting up house with my husband and our four sons aged 11, 8, 5, and 2.
I fondly recall that exceptional season of our lives. It was an introduction to our new Ozark Mountain home, as well as the summer when I embraced homeschooling as a way of life and smiled widely at the natural progression of child-generated and Spirit-filled studies that pumped vigor through our veins.
Let Your World Be Your Inspiration
Most boys love critters, even the creepy ones, and my young nature enthusiasts were no exception. Arkansas, known as "The Natural State," brought with it an exciting panorama of God's creatures: armored (but not tire-proof), burrowing, bushy-tailed, flying, furry, glowing, howling (as in the middle of the night), rabid (as in raccoon), scaly, slimy, stinky, stinging, toxic (the eight-legged kind), fascinating specimens.
Simple prayers had brought few turtle finds in our old terrain, but our fresh aquatic stomping grounds delivered to us a variety of bathtub treasures. Friendly Tedawarded the Reynolds boys with hours of activity and entertainment. The natives they encountered, such as armadillos, groundhogs, slugs, giant beetles, cicadas, snakes, opossums, and skunks were eagerly sought after through our illustrated animal encyclopedias. Crawdads (aka crayfish) were creatures to be savored in their own sweet realm during each trip to the creek but savored by many Arkansans piled high on a platter at the annual Crawdad Days Festival! Have you ever opened a jar of fireflies in a room with a ceiling fan? Do you know what lizard earrings are? How many brown recluse spiders can you spot on the floor with a flashlight in the middle of the night?
Of course, we got to be buddies with our exciting new library! Eight-year-old Gideon learned to use the card catalog, where he found a field guide to identify his beloved turtles and snakes. Since he was not yet a fluent reader, 11-year-old Josiah or I read aloud passages of interest to the family, and the boys copied specific information and picture tracings to their hearts' content. Map work became common as states where the different species lived were identified. The younger boys became enthralled with Dad's 25-foot rule as they figured out just how big that python was if it was completely stretched out, and they played and measured, inches to yards and centimeters to meters. Have you ever lost a snake in the bathroom?
Our library trips acquainted us with some amazing creatures through videos and special book discoveries. The cover and interesting marginal drawings throughout the delightful book Minn of the Mississippi1, where we accompanied an endearing snapping turtle on her travels, caught Gideon's attention. Out came the map as we tracked the geography and history of the Mississippi River. It was neat in that we had just crossed the famous river on a trip to Florida a few months prior. What a great read-aloud, but I don't recommend a snapping turtle for a pet—read Pagoo2and keep hermit crabs instead.
During the months that followed, Gideon sketched numerous pictures of insects, turtles, and underwater scenes that encouraged his brothers' attempts to do the same. I suggested they make a scrapbook for their nature drawings, with titles and captions to explain them. An enticing seashell collection on display at the library led to identifying and drawing their favorites. Measuring ensued: "Wow, look how big the Giant Conch gets!" Dad divvied up his old seashell collection, adding to the delight of the occasion. (Seashells go great with hermit crabs!)
Have something to say about this article? Leave your comment via Facebook below!
advertise with us
Example: "Gen 1:1" "John 3" "Moses" "trust"
Advanced Search
Listen to Your Favorite Pastors