Summer of Fun: A Natural Nature Study
Kathy Reynolds, The Old Schoolhouse Magazine
Tuesday, August 16, 2011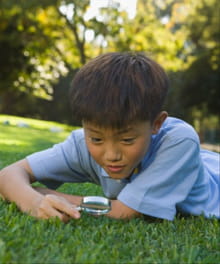 When September came, I used many of the interests of that summer to fashion in-depth unit studies of our own in the years that followed: animals in our neighborhood, creationism vs. evolution, reptiles, the skeleton and human body, Arkansas history, rocks and gems, the metric system, caves, insects, flowers, seashells, etc. At the center was at least one exciting read-aloud book on each topic, along with fun, hands-on activities. The boys weren't interested in poetry but I included it anyway, and many math lessons were still a struggle to fit in. Studying the same topics, though, with different ability levels, linked us together in a wonderful way. Everyone's input added to the whole.
A love for God and nature, a thirst for knowledge, a few supplies, and a shared enthusiastic interest from my husband and me led to an amazing natural nature study summer of fun for our homeschooling family. God's agenda to introduce us to our new home was better than anything I could have planned!
A Simple Approach
I appreciate Charlotte Mason's love of nature study and her teaching philosophy, "Education is an atmosphere, a discipline, a life," and also her encouragement toward the use of living books: "We trust much to good books—once more, we know that there is a storehouse of thought wherein we may find all the great ideas that have moved the world."†
Some of the best studies we have done came about as we read great books with captivating subjects and then chose topics as jumping off points. There literally are hundreds of outstanding book choices that would make great studies.
Here are a few simple ideas and thoughts to consider implementing in your homeschool:
* Having "nothing to do" can develop creativity.
* Don't turn every interest into a unit study!
* Ask your children to form a list of "things I'd love to do and learn," marking them off as they get done.
* Find worthwhile lessons everywhere—seize and provide opportunities to learn the things that matter.
* Involve your children in the things you do and enjoy.
* Encourage the older kids to share their passions with the younger ones.
* Brainstorm about a service-oriented project—perfect for your family.
* Use the scientific method to ask and answer questions about your observations and experiments.
* Fill up on inspiring, true-life stories.
* Employ a growth mindset—you can learn what you put effort into learning!
* Encourage real writing experiences and participation in a homeschool newsletter/publication, or start your own.
* Keep a journal with a goal of reflecting on the wow insights discovered each week.
* Exercise the freedom to choose what is meaningful and suitable for your children.
* Pray together, teaching about God and relating His Word to your daily lives and the world around you!
"For God, who commanded the light to shine out of darkness, hath shined in our hearts, to give the light of the knowledge of the glory of God in the face of Jesus Christ." (2 Corinthians 4:6)
†Charlotte Mason, Charlotte Mason's Original Homeschooling Series, Tyndale House (1989), Vol. 2, pg. 231.
Kathy has been a passionate homeschooling mom for more than twenty years to four sons, all homeschooled from birth. She is an RN and has worked as a marketing copywriter for The Old Schoolhouse® Magazine. Other interests include writing, scrapbooking, natural and alternative health, and publishing a local E-letter for homeschooled students. You can contact Kathy by email at simplynaturalhomeschool@yahoo.com.
Endnotes:
1. Holling C. Holling, Minn of the Mississippi, Sandpiper (1978).
2. Holling C. Holling, Pagoo, Sandpiper (1990).
3. Rick Imes, The Practical Entomologist, Fireside (1992).
4. Hurricane River Cave is located in Pindall, Arkansas.
Copyright, 2011. Used with permission. All rights reserved by author. Originally appeared in The Old Schoolhouse®Magazine, Summer 2011.
Visit The Old Schoolhouse® at www.TheHomeschoolMagazine.com to view a full-length sample copy of the magazine especially for homeschoolers. Click the graphic of the moving computer monitor on the left. Email the Publisher at Publisher@TheHomeschoolMagazine.com.
Have something to say about this article? Leave your comment via Facebook below!
advertise with us
Example: "Gen 1:1" "John 3" "Moses" "trust"
Advanced Search
Listen to Your Favorite Pastors