Technology Instruction at Home
Holly Poteete, The Old Schoolhouse Magazine
Tuesday, July 19, 2011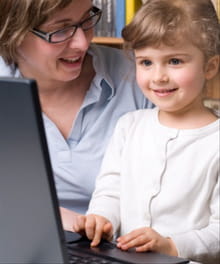 Internet Safety is a great topic with which to launch your technology instruction. This concept pertains to the fifth National Educational Technology Standard for Students, Digital Citizenship, which reads as follows: "Students understand human, cultural, and societal issues related to technology and practice legal and ethical behavior." In addition to motivating legal and ethical behavior on the part of our children, we want them to be safe. Following are some activities and ideas that you could use to integrate or teach this standard.
As an introduction to netiquette, explain that taking precautions when using technology is a means of protection. Be sure to point out to your child that every click is potentially dangerous when surfing the web. Depending on the age of your child, you could discuss the effects of what could happen if he uses inappropriate behavior when using chat rooms, email, instant messaging, or video conferencing. If he shares personal information, such as his real name, password, address, phone number, or other identifiable personal information, it could result in abduction or other harm. Furthermore, tell your child that once information is posted on the Internet, such as on a blog or a social networking site (Facebook or Xanga), it is very difficult or impossible to remove it. Make sure your child realizes that many people, both now and in the future, will see the information he posts.
When accessing the Internet, I recommend that you use web-filtering software/service or an appliance such as those described on these websites: http://www.netnanny.com/,http://www.cyberpatrol.com/, or http://www.cybersitter.com/. Supervise your child closely when using the Internet, and using language he can comprehend fully, clearly tell him exactly how to practice Internet safety.
You may want to consider installing keylogging software or hardware that records every keystroke your child makes on the keyboard. This does not necessarily need to be used as a reprimand but rather as an instructional tool to help your child make better decisions in the future. Parents should not promote an adversarial environment between themselves and their children but rather should cultivate an attitude of loving guidance and correction.
Here are some great sites with Internet safety songs that introduce your child to being a good cyber citizen while staying smart when working online. Your child could learn the song and sing it to you or another family member.
National Crime Prevention Council—McGruff's "Internet Safety Song"
http://www.ncpc.org/cms/cms-upload/prevent/files/internet_safety_song_player.swf
"The SafeKids Online Song"
http://www.safekids.com/safesong/
Listed below are a few online games that your child could use to learn more about Internet safety. Preview the sites and choose a game that would be best for your child. When playing these interactive games, your child will learn about computer viruses, netiquette, email, and more.
KidsCom
http://www.kidscom.com/games/isg/isg.html
McGruff' Internet Safety
http://www.mcgruff.org/Games/is.php
NetSmartz Kids
http://www.netsmartzkids.org/games/index.htm
http://www.netsmartzkids.org/games/index.htm
Have something to say about this article? Leave your comment via Facebook below!
advertise with us
Example: "Gen 1:1" "John 3" "Moses" "trust"
Advanced Search
Listen to Your Favorite Pastors