Unit Study: The Revolutionary War
Jennifer Steward, Educator
Friday, January 04, 2013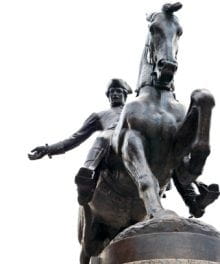 Now that we've laid the foundation for why and how the Revolution started, we can immerse ourselves in the topic by reading books and applying academic skills and subjects to our study. You can include spelling/vocabulary, geography and maps, reading, writing, and research, as well as other valuable activities!
Reading List
Read Aloud Titles
Johnny Tremain by Esther Forbes
Mr. Revere and I by Robert Lawson
Young Students (Picture Story Books)
The Hatmaker's Sign by Benjamin Franklin, retold by Candace Fleming
Betsy Ross by Alexandra Wallner
Paul Revere's Ride by Henry Wadsworth Longfellow
Redcoats and Petticoats by Katherine Kirkpatrick
In 1776 by Jean Marzollo
Early Readers
Phoebe and the General by Judith Berry Griffin
Aaron and the Green Mountain Boys by Patricia Lee Gauch
Sam the Minuteman by Nathaniel Benchley
Buttons for General Washington by Peter and Connie Roop
Good Children Get Rewards by Eva Moore
Intermediate Readers
Molly Pitcher by Jan Gleiter and Kathleen Thompson
Paul Revere by Jan Gleiter and Kathleen Thompson
Can't You Make Them Behave, King George? by Jean Fritz
Will You Sign Here, John Hancock? by Jean Fritz
The Winter of Red Snow by Kristiana Gregory (Dear America diary)
The Fighting Ground by Avi
Tree of Freedom by Rebecca Caudill
Guns for General Washington by Seymour Reit
Upper-Level Readers
My Brother, Sam, Is Dead by James Lincoln Collier and Christopher Collier
Carry On, Mr. Bowditch by Jean Lee Latham
Yankee Doodle by Dr. Richard Shackburg
Nonfiction Resources
If You Lived at the Time of the American Revolution by Kay Moore
Valley Forge by R. Conrad Stein (Cornerstones of Freedom series)
American Revolution by Joy Masoff (Chronicles of America)
American Revolution (DK Eyewitness Books)
Two if by Sea by Leonard Everett Fisher
Picture Book of Revolutionary War Heroes by Leonard Everett Fisher (These two books may be available in the library system or through a used online source; though "out of print," they are worth obtaining.)
Coloring and Activity Books
Revolutionary War Era (Hands-On Heritage)
The Story of the American Revolution coloring book (Dover Publications)
Heroes and Heroines of the American Revolution (Dover Publications)
How Our Nation Was Born: The American Revolution (American Milestones)
Other Resources
Handwriting Practice
Find inspiring quotes by Revolutionary patriots and use for handwriting practice.
Read the Scripture on the Liberty Bell from Leviticus and write it out.
Practice your "John Hancock" (sign your name in cursive).
Activities
Memorize "Paul Revere's Ride" by Longfellow.
Make a Revolutionary War timeline. See this page (click on "timeline").
Read The Winter at Valley Forge by James E. Knight, and then describe the conditions that the soldiers were forced to endure.
Older students—watch the movie The Patriot starring Mel Gibson (with parental consent, as some scenes of war are very graphic).
Writing
Have something to say about this article? Leave your comment via Facebook below!
advertise with us
Example: "Gen 1:1" "John 3" "Moses" "trust"
Advanced Search
Listen to Your Favorite Pastors