What Makes the Best Toys?
Kendra Fletcher
Friday, April 19, 2013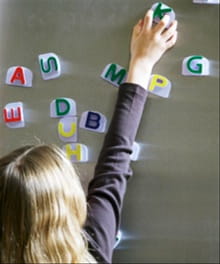 4. How easy is this toy to store?
Many of us have limited space to store things, and as we began to add school items we realized how quickly that storage space was being eaten up! For several years, our entire kindergarten curriculum and related supplies were stored in a Rubbermaid box under the crib. I know many of you can relate to the need for creativity in regard to storage.
Despite our love for blocks, my husband has banned toys that come in sets of a bazillion. Seriously. Do we really need a box of one thousand tiny plastic beads? Inevitably those beads end up in our vacuum, and it doesn't take many to clog it. No fun. So for our family, toys that come in sets of a lot of pieces are passed by, and I think our ban has brought us a measure of peace.
If you're okay with a toy or toys making their home in your living room, then no need to worry about storage. We have some toys like that. The ones that are played with daily are stored in the corner of the family room and that's the way we like it. But if storage space is at a premium at your house and leaving toys out is not an option, you might want to consider whether or not you have a place for that toy—before you bring it home.
5. How easy is this toy to pick up?
I'm all about peace, and I'll tell you right now that clutter brings me no peace. Several times a day I stop and make somebody pick up something. Your tolerance level might be higher than mine, and in this I'll defer to Shakespeare: "To thine own self be true." If you want your kids to pick up, don't thwart their ability to do so by purchasing toys that are a pain in the neck to gather and put in their proper places.
Of course, this probably won't be the only factor in your decision to purchase or keep a toy around, and it shouldn't be. If you do have a toy that is tricky to pick up, be sympathetic and get in there with your little ones to help them get all those pieces put away. It's hard to be a little guy facing a floor of pieces that need to fit just so into a box.
Toys With Staying Power
Waldorf Dolls www.waldorf-toys.com/english.php
Corolle Dolls www.corolle.com
CitiBlocs www.citiblocs.com
LEGO www.lego.com
Kettler Trikes www.kettlerusa.com/toys/tricycles
BRIO Trains www.woodentracks.com/BRIO_WOODEN.html
Wooden Puzzles www.melissaanddoug.com/childrens-wooden-puzzles
Red Wagons www.rosiehippo.com/p-1343-rosie-red-wagon-16-x-28.aspx
Stack and Roll Cups www.fisher-price.com/fp.aspx?st=2341&e=detail&pcat=bubrilliant&pid=38607
Fisher Price Farm www.fisher-price.com/fp.aspx?st=2053&e=product&pid=37354
Kendra Fletcher is the homeschooling mother of eight, aged 18 down to 3. She has never known what it means to homeschool without the presence of preschoolers and loves to encourage other moms who are beginning their homeschool journeys with little ones underfoot. Her website and blog can be found at www.preschoolersandpeace.com/.
Copyright 2012, used with permission. All rights reserved by author. Originally appeared in the March 2012 issue of The Old Schoolhouse® Magazine, the family education magazine. Read the magazine free at www.TOSMagazine.com or read it on the go and download the free apps at www.TOSApps.com to read the magazine on your mobile devices.
Publication date: April 19, 2013
Have something to say about this article? Leave your comment via Facebook below!
advertise with us
Example: "Gen 1:1" "John 3" "Moses" "trust"
Advanced Search
Listen to Your Favorite Pastors