Why Learn American Sign Language?
Renée K. Walker, The Old Schoolhouse Magazine
Wednesday, May 18, 2011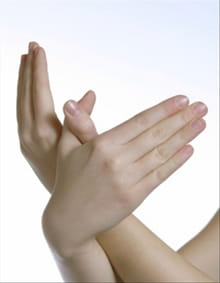 If the question now is, "Okay, I want to teach ASL, but how can I go about teaching a language that is so different?" the help is out there, and finding it is easy. Many colleges and area agencies for the Deaf offer fairly inexpensive community classes, which are excellent choices. There are free options as well. The best free options are found on the Internet. The website http://www.Lifeprint.com/, created and operated by Dr. Bill Vicars, a Deaf ASL native and certified ASL teacher, is highly recommended by many Deaf agencies and by the Helen Keller National Center For Deaf-Blind Youths and Adults. You also can register with Lifeprint and submit lesson work and videotapes that are accepted for full credit in many places.
Numerous print resources are available for the study of American Sign Language and Deaf culture. A curriculum that gives a thorough study of vocabulary, grammar, and syntax is a series titled American Sign Language Green Books by Dennis Cokely and Charlotte Baker-Shenk. This series is published by Gallaudet University Press, a division of the first school for the Deaf and Deaf College, GallaudetUniversity. The Everything Sign Language Book: American Sign Language Made Easy by Irene Duke is a good choice for finding a lot of information in one place. The American Sign Language Phrase Book by Lou Fant, The American Sign Language Handshape Dictionary with optional flash card sets, and The Gallaudet Dictionary of American Sign Language are excellent resources, all of which can be purchased at http://www.Amazon.com/.
Find and use a chart of the American Manual Alphabet for fingerspelling. Twenty-six handshapes correspond to each letter of the alphabet. The Manual Alphabet is used in only a limited fashion in ASL, but fingerspelling and the handshapes play important roles. The Lifeprint website offers an alphabet chart, and most ASL resources will include one.
Regardless of the particular American Sign Language curriculum you choose, find a mentor—an interpreter, ASL teacher, fluent signer, or native speaker, who can make sure you are learning the signs properly and using them correctly. It is difficult to learn a sign using only a picture or even a video presentation. If possible, find a mentor in the Deaf community. He or she will help you not only to properly apply the skills learned in the curriculum, but also to enrich your vocabulary. You can form lasting bonds that not only will enrich the class but will enrich your lives as well.
A Few Considerations
Before you begin your study of American Sign Language, there are a few things that need to be considered. Many hearing individuals have the misconception that ASL is an easy or a simple language. That is probably derived from a misunderstanding of how the grammar and syntax work or from a direct translation that sounds similar to baby talk, but isn't. ASL is a rich visual language that actually paints pictures with more detail than any verbal language does. The grammar and syntax are more like Japanese or Navajo than English. Learning any foreign language can be a challenging task, and learning American Sign Language is no exception. Consider this when choosing the language of study for your student.
Another aspect to consider is that some students who may have been overlooked for foreign language study due to learning disabilities, autism spectrum disorders, or auditory /visual processing disorders may be capable of learning and actually benefitting from acquisition of a visual language rather than a verbal one. Also, many hearing people think that any form of communication done with signs is sign language or ASL. However, many modes of communication use the hands to facilitate interaction and teaching of English to the Deaf. Signed Exact English (SEE) is one in which every English word is signed. It uses ASL signs and SEE signs, i.e., signs made to cover signs not found in ASL, because ASL doesn't use the same syntax as English.
Have something to say about this article? Leave your comment via Facebook below!
advertise with us
Example: "Gen 1:1" "John 3" "Moses" "trust"
Advanced Search
Listen to Your Favorite Pastors