Scholarship Opportunity: America's Junior Miss
Chantelle Wright, Contributing Writer
Thursday, May 05, 2005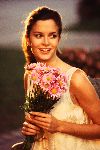 Other homeschool high school juniors have also participated in Junior Miss. Rachel Higgins of Colorado and Rachel Olds from Kansas both held their state's title, won scholarship money and competed in the national America's Junior Miss in Mobile, Alabama the summer of 2002.
National Jr. Miss Winners
Following in the tradition of her mother, Amy Kerr gave Junior Miss a whirl. She had grown up surrounded by stories of the girls' wonderful experiences and lasting friendships. Armed with talent, poise under pressure, community service, and excellent scholastic achievement, Amy won Oregon's Junior Miss, then 10 months later became America's Junior Miss for 2002. Her scholarship monies totaled $76,300.
Carrie Colvin was 6 years old when she first heard of America's Junior Miss. The thought of performing onstage appealed to her dramatic personality. But, her perception of Junior Miss at age 6 and her actual experience at 16, were two different scenarios. What she didn't understand at the time was what Junior Miss is really about: the successful girls she would meet while competing, the poise and articulation she would gain, and the scholarships she could win. But she felt that she had been preparing for this moment all her life. And all these talents helped her win the title of America's Junior Miss 2001 and walk away with scholarships totaling $76,300, currently being used in her pursuit of a medical career.
Being a representative of America's finest college-bound young women, Carrie traveled extensively, speaking to youth on the "Be Your Best Self" program. One of her more exciting opportunities was traveling to Dublin, Ireland to participate in the American Academy of Achievement's International Summit. There, she witnessed the exciting presentation of the Golden Plate Award, the Academy's recognition for people who are distinguished in such fascinating fields as art, politics, and literature. She also brushed shoulders with actor James Earl Jones, spoke with scientist Dr. James Watson, and met Bono from the indisputably popular Irish rock group U2.

Carrie's advice for those participating in Junior Miss, "Focus on the fun, friendships, and lessons that Junior Miss provides, and the competition will slip to the back of your mind. And, most of all, be calm and relaxed while showing your true self."
And just what are the judges of AJM looking for? Surprisingly, beauty is low on the list. Scholastics, interview ability, talent, fitness and poise (demeanor, style and onstage speaking ability). No swimsuits, bikinis, slits or strapless clothing allowed. The best word to describe their style is wholesome. Think Doris Day, the "Waltons" and "Little House on the Prairie." And imagine Diane Sawyer (America's Junior Miss for 1963) and Deborah Norville (Georgia's Junior Miss for 1976). They really do look for the "girl next door" who has great potential.
Amy has seen that the biggest change since becoming America's Junior Miss 2002, is the public recognition she receives. Strangers on the street stop to ask if she is "The Amy Kerr." But, with this new-found publicity she has accumulated self-confidence and grace onstage and looks forward to the upcoming changes in her life. When asked what her advice would be for girls looking to enter the program she replied without pause, "Don't hesitate to enter! This is the most amazing scholarship program for young women in the U.S., and even if you do not win a dime in scholarship money, you will come away with confidence, interview skills, and a plethora of new friendships that will last a lifetime."
So, if you are a young lady in need of scholarship money and football scholarships aren't an option, then put your talent, poise and speaking ability to the test and try one of the many scholarship programs. You'll come away with skills and friends you didn't possess before.

To find out more about America's Junior Miss, including their mission and judging criteria visit: http://www.ajm.org/.


Chantelle Wright currently holds the title for her college, Miss Judson 2005, and will compete in the Miss Alabama America pageant this summer. She has written a booklet to help other titleholders called "Organizing the Queen." You can view her website at: www.kiara-kreations.com/organizing_the_queen.htm.

Have something to say about this article? Leave your comment via Facebook below!
advertise with us
Example: "Gen 1:1" "John 3" "Moses" "trust"
Advanced Search
Listen to Your Favorite Pastors