School Choice
Tuesday, September 24, 2002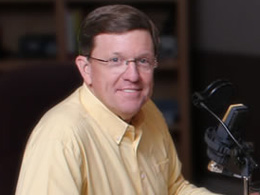 Q: How do I decide where to send my children to school?
Dennis: The issue of where your children should go to school-whether it be homeschool, public, private, or private Christian-is a hot issue among Christians these days. There are so many choices and different opinions, and it's tempting to look at what other families are doing and compare their decisions about school to your own. This happened to Barbara and me as our children reached school age. Some of our friends made choices that were different from the way we felt God leading us, and we started wondering, "Are our values wrong? Are their values wrong? Are we making the right decision?"
The question is not whether their values or ours were wrong, but are our values different? I've read a great deal of Christian writing on this subject. Much of it pits parents who have chosen public school against the homeschoolers, or the public schoolers against the parents who choose private Christian education.
This kind of attitude fosters a divisive and judgmental attitude within the Christian community. Romans 12:3 commands us not to think more highly of ourselves than we ought to think, and this applies to our decisions as well. We shouldn't think more highly of the decisions we make just because they're different from someone else's. And in the case of educational choices, I believe there's biblical support for all of these choices.
When you and your spouse start considering the school question, one of the first things you can do is determine your family's convictions. This may help clarify what you think is important and what the Lord is telling you about this issue.
This means thinking critically-not saying or doing something just because your friends are saying or doing it. Hammer out your own family values, your own convictions, and your own philosophy of education and child rearing. Then, when you make a decision about schooling, it won't be a decision that's been compartmentalized. Instead, it will flow from your sense of responsibility as a couple entrusted with the care and rearing of your children to help them become all God intends them to be.
When Barbara and I initially did this, we determined our values quite apart from our school choice decision. We went away one weekend and made individual lists of our top five individual values; then we combined these lists and prioritized them for our values as a couple. Doing this gave us a sense of purpose as a couple and as a family, and part of that included the decision of where our children should go to school.
Barbara: We decided to homeschool our children in the late 70s, when few people had really heard of homeschooling before. We heard all kinds of "You're doing what?" comments from friends and neighbors and family, and we experienced incredible peer pressure. But I also remember feeling liberated because we were evaluating what we thought was important.
Dennis: One of the most important components in making this decision is asking the Lord for wisdom and discernment. Proverbs 3:5-6 tells us to trust in the Lord and not depend on our own understanding. Proverbs 2 urges us to search for wisdom that leads to discernment-skill in everyday living. It gives us the ability to determine direction and know where God is leading us. Husbands and wives can pray together and ask God to guide them both in this decision about school.
Barbara: Don't stop praying after you've made that kindergarten or first grade choice. As our children approach college, we've prayed for that decision as well. Praying about the educational choices you will make for and with your children is something to do all through their lives because you need to be open to whatever God wants, and He might have a change in mind.
Dennis: Proverbs 22:6 talks about raising up-or training-a child in the way he should go, and that when he is old, he will not depart from it. This means understanding how God has made your child, and the particular needs he or she has. A mom and dad are meant to be students of their child so they can predict and articulate what the child needs. Evaluate your child emotionally, spiritually, intellectually, and physically. Assess his or her gifts and talents and special abilities. Then you can make the educational choice that will help insure the success of your child.
Have something to say about this article? Leave your comment via Facebook below!
advertise with us
Example: "Gen 1:1" "John 3" "Moses" "trust"
Advanced Search
Listen to Your Favorite Pastors