Should I Be Worried About My Child's Language Development?
Cari Ebert, M.S., CCC-SLP, The Old Schoolhouse Magazine
Tuesday, January 10, 2012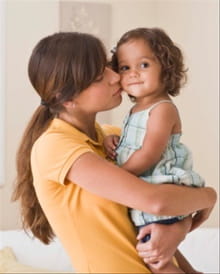 • Be a good language model. Modeling is the most important strategy that we use to help children learn to talk. We need to model language that is easy for young children to understand and imitate. To become a good language model, try using the following techniques when you talk to your child:
—Use short, simple phrases.
—Speak slowly and deliberately.
—Repeat words and phrases frequently.
—Get down to your child's eye level so he can see how you move your tongue and lips.
—Use an animated voice with lots of inflection.
—Pair words with what your child is seeing or doing.
—Avoid asking "What's that?" or instructing your child to say words.
—Praise your child for trying to say new words, but don't put pressure on him to perform.
—Do not withhold things from your child if he doesn't say the words you want him to say.
• Encourage your child to imitate actions and sounds. Imitation skills are crucial for the development of speech and language.
• Expand on your child's words. When your child says something, repeat back what he said, adding one or more words. Like building with blocks, build on his original words.
• Name objects in your child's world to help expand his vocabulary.
• Sing with your child. Singing facilitates good listening and imitation skills, which are necessary for the development of language. The key is to slow down; use a reduced tempo when you sing, which will help your child to be successful.
• Model for correction. When your child says a word or phrase that is incorrect, repeat what he said, using the correct form. Do not expect your child to say it again. Just model the correction for him (e.g., child says "Look at the wabbit" and adult says "I see the rabbit").
• Prolong difficult sounds. When your child has difficulty producing certain sounds, prolong those sounds when you say words, both to draw attention to them and to increase his auditory awareness (e.g., child says "Big nake" while pointing to a snake and adult then says "Yes, big ssssssnake").
• Pause and wait. Once you have modeled a word for your child, you should pause, wait, and look expectantly at your child to give him an opportunity to talk.
• Give choices. Avoid asking too many questions that can be answered with a "yes" or "no" response. Instead, give your child choices between two items to encourage him to use his words (e.g., instead of "Do you want a cookie?" try "Do you want cookie or yogurt?").
Effective communication equips us to interact, socialize, and learn. If you have concerns about your child's speech and language development, I encourage you to follow your instinct and seek help to find some answers to your questions. As parents, we can easily be overcome with worry. The best advice I can give you is to stay positive and don't get frustrated. Learning to talk is a marathon, not a sprint!
*First published on August 19, 2009
---
Interested in having The Old Schoolhouse magazine delivered to your door? Sign up with promo code "5OFFCW" and receive 20% off your subscription.
Cari Ebert is a pediatric Speech-Language Pathologist in private practice. She and her husband Jim homeschool their three children, and she is the author of the recently published small talk, a homeschool diagnostic and teaching curriculum for young children who demonstrate speech and language delays. For more information about Cari and small talk, please visit her website at www.homeschoolsmalltalk.com.
Copyright 2009. Originally appeared in The Old Schoolhouse Magazine, Summer 2009.
Used with permission. Visit them at www.TheHomeschoolMagazine.com.
Catch the TOS Summer Bouquet of 19 exceptional gifts—yours FREE when you subscribe to or renew a two-year subscription to The Old Schoolhouse® Magazine! This offer is available only for the first 5,000 who respond—so HURRY. Check out this sweet bouquet by clicking here.
Have something to say about this article? Leave your comment via Facebook below!
advertise with us
Example: "Gen 1:1" "John 3" "Moses" "trust"
Advanced Search
Listen to Your Favorite Pastors