Spending Time in the Kitchen with Sue Gregg
Diane Wheeler
Monday, August 11, 2003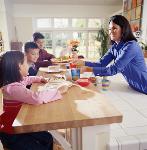 "Basically, just start with familiar, favorite recipes, and change the quality of the ingredients ... You don't have to start with expensive equipment, and you don't have to start with yeast breads." - Sue Gregg
Meals happen with overwhelming regularity, don't they? It is one thing to get food on the table three times a day; it is another to make sure we are meeting our nutritional needs. Whether we have an urgent need to address health concerns, such as allergies or illness, or we just know that a refined, highly processed diet is not best, it is difficult to know where to begin to change.
Sue Gregg understands the transition to healthier eating and has experimented and researched excellent recipes and methods for food preparation. She has a series of cookbooks that are easy to use and are well indexed, and she has developed materials for teaching children the basics of healthy cooking. I recently spent some time talking with Sue about her ministry and the concerns that we have about changing our eating habits. Sue has much more information to share on her website (www.SueGregg.com) and in her many publications. May our conversation be just the beginning of your learning and changing to healthy cooking and eating.
Q: Sue, can you tell us how you came to write your cookbooks and how your ministry started?
A: Sure. I majored in home economics in college, and it was always something that I had a bent toward. When I was about 38 years old, I began to get more interested in healthier eating. I really didn't know anything, but my husband started having some health problems. There was information coming out about grain mills and making your own bread so I thought I should ask around. I read Diet for a Small Planet, which focused on world hunger, eating more grains, and not eating meat. I gave my family brown rice, vegetables, nuts and seeds, but they didn't like it! I had to back off and pray. I asked the Lord, "What am I doing that I shouldn't be doing?" That still small voice said, "First of all, pray for your family, and second, change your approach." So, I backed off. I did purchase a grain mill and mixer, and it was quite an expensive investment. I told the children, "No more white bread; we are going to have whole grain bread," and we got so that we really loved it. I started selling the machines and giving demonstrations. Then my demonstrations got longer. People were asking me nutritional questions like, "Why do you use honey instead of sugar? Why do you use oil instead of shortening?" I had to say, "I don't know, but I will research it." In the summer of 1978, we decided to do a nutrition seminar. I would have women come up to me and say, "We need recipes to do what you are telling us to do. Do you have some?" So, I took 100 of my favorite recipes, and we made up 100 sets. These eventually grew to more recipes and nutritional information in a binder, and then the binders became our basic set of seven cookbooks.
Q: When attempting to change to a healthier diet, many think, "I cannot do this." How do you talk someone through the first steps of changing their diet?
A: First of all, there has to be a conviction, a mindset that says it is important. I recommend beginning with prayer. God understands all of our individual situations, what we can cope with and what we need to work on. Through prayer, He can answer our needs. We have had people come across our book Healthy Living and tell us, "I was praying for a way to do this and I found your book." That always encourages me. Healthy Eating deals with the why and the how-to. We deal with the main challenges we have seen women have.
Have something to say about this article? Leave your comment via Facebook below!
advertise with us
Example: "Gen 1:1" "John 3" "Moses" "trust"
Advanced Search
Listen to Your Favorite Pastors