Spending Time in the Kitchen with Sue Gregg
Diane Wheeler
Monday, August 11, 2003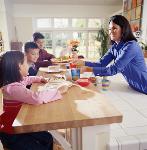 Q: People do struggle with food allergies. What do you suggest for these families?
A: I usually suggest our cookbooks because we focus on allergies quite a bit. In our Master Index, we have an index on allergies. The major allergies are wheat and dairy. For wheat allergies, kamut and spelt are two grains that are a type of wheat, but a lot of people can tolerate them. They are two wonderful grains that have enough gluten in them to make yeast breads. Spelt has kind of a nutty flavor; it is closer to the wheat. Kamut is really different; I love the taste, but it is hard to describe.
For dairy, the most popular alternative is soy. It has been brought to my attention, and I have done a lot of research, about the dangers of soy. I won't go into detail here, but I would caution people not to use all soy substitutes for their dairy products. I think nut milk is a great one to use. I would do a variety. You can get yogurt cheese with active cultures. That is probably easier to digest and not made from soy. There are a lot of things like that. Experiment.
Q: You have a new set of materials called Taste and Tell that models the concept of serving food as a bridge for connecting people. Tell us more about that.
A: This is really my passion. Don Richardson, author of the book, Peace Child!, also wrote a book called Eternity in their Hearts. It talks about a redemptive analogy, the fact that in every culture there is something that makes a natural bridge to the gospel. We have realized that food is a universal redemption analogy. God intended our dependence on food as a way of showing us that we need to depend on Him for everything. When I read Apples of Gold by Betty Huizenga I saw an opportunity for a pattern for introducing Jesus to people, which is really where my heart is. Apples of Gold is a six-week mentoring program of food demonstration, eating together and then a Bible study. Well, last year we piloted a class with our Taste and Tell recipe sampler, which has about 20 recipes in it. Everyone eats together and then we do Bible studies. The Bible studies are four food incidents in the gospel of John: Wedding Wine, John 2; Living Water, John 4, Living Bread, John 6; and The Catch of Fish, in John 21 where Jesus, after the resurrection, feeds the disciples on the beach. Jesus uses all of these incidents to draw people to Himself. We will see how it goes. I am really excited about it.
Q: Sue, we have really enjoyed meeting both you and your husband, Rich. We look forward to having you back here again sometime in the near future. Below, we have included your delicious Almond Coffee Cake recipe which you have graciously agreed to share with our readers. God bless your ministry and thanks again for spending time with us.
Here is a sample recipe from Sue's Breakfast cookbook. Blender recipes are a specialty of Sue's, and this will give you a good feel for how easy whole grain recipes can be to prepare.
Almond Coffee Cake
Amount: 11.5 x 8 (preferred) or 9 x 13 baking pan
Bake: 325 degrees - 30 to 40 minutes
1. Place in blender; blend on highest speed 3 minutes until smooth:
1 cup buttermilk
1/4 cup olive oil (for more cake-like texture)
3/4 cup honey (warm slightly if not easily pourable)
Have something to say about this article? Leave your comment via Facebook below!
advertise with us
Example: "Gen 1:1" "John 3" "Moses" "trust"
Advanced Search
Listen to Your Favorite Pastors