Super Science At Home: No Textbook Required, Part 1
Lori M. Henry, Contributing Writer
Wednesday, February 22, 2006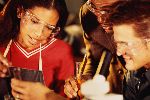 Pick a textbook, any textbook, written for the elementary grades and you'll find just about the same thing. Roughly ten science topics covered with varying degrees of difficulty depending on the grade level. Each year students will discuss plants, animals, human body, astronomy, weather, rocks and minerals, electricity, sound, magnets, light and force and motion. I once had a seventh grade student say to me, "Plants? Oh, I know everything there is to know about plants."
For the adventurous, or the bored, there is another option. If necessity is the mother of invention, then variety is the mother of enjoyment. If science class has fizzled out at your house, these nine super science suggestions might just convince you to put a little sizzle in your scientific pop.
1. Keep a Science Journal
Where would we be if men like Leonardo Da Vinci had not written copious notes with diagrams and procedures? What if John James Audubon had not recorded the species of birds and animals he came upon in his travels?  Invest in a brand new spiral notebook (or heartier journal if you wish) and a pencil or two. All scientists keep records of their experiments, observations, data, hypotheses and conclusions and since we are working scientists, we should too. (It will also come in handy when the grandparents wonder what the children are learning, or when your curriculum is reviewed at the end of the year.)  
Young children can dictate their science discoveries to their mom, dad or an older sibling and then draw a picture of their own. Middle elementary children should be able to make lists of materials used, procedures followed, and results obtained, using diagrams where necessary. Older elementary children should begin writing lab reports that include a hypothesis, a table or graph of the data collected, and a conclusion. In this way, even the same science topic can be enjoyed by everyone in the household, and the level of difficulty will be appropriate for every grade level. 
Your science journal may also contain field trip reports, sketches of thing seen on hikes, ideas for an invention, a weather log for a given time period, or notes on demonstrations done by others. Simply, if its science, write it in your notebook. You'll be surprised by how many super science experiences your children will have, and remember, simply by keeping a journal.
2. Biology in the Backyard, Chemistry in the Kitchen, and Physics in the Garage
When my son was seven, he was fascinated with bugs.  We kept a plastic critter cage in the center of the kitchen table for those opportune moments when an unsuspecting creature would present itself for study.  For a while a female brown cricket resided in the cage, and later a giant green praying mantis, and many more in between.  Each time we looked up every piece of information a seven-year-old could procure and record our observations about its eating and living habits.  After a couple of days or weeks, we would bid it farewell and set it free, creating a critter cage vacancy ready for the next occupant.
Have something to say about this article? Leave your comment via Facebook below!
advertise with us
Example: "Gen 1:1" "John 3" "Moses" "trust"
Advanced Search
Listen to Your Favorite Pastors