TeenPact: Making a Difference in America
Zan Tyler, Editor of the Crosswalk.com HomeSchool Channel
Thursday, April 04, 2002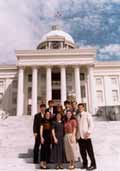 A Real Understanding:
TeenPact and TeenyPact's major objective is to break down the intimidation that many have about involvement in our civil government. Surprisingly to some, public servants are available and desirous to meet citizens - regardless of age - who live within their district. We want students to see that the future of our country is dependent upon their involvement.
Making Sense of the Paperwork:
You can't go into a Legislature anywhere in the country and not be inundated with paper: bills, amendments, disclosures, rosters, code sections, committee reports. They all seem so confusing at first. Students leave the Capitol with a better idea
of the importance of each document and how they can use them as citizens for the rest of their lives.
Parliamentary Procedure:
Both TeenPact and TeenyPact students learn the basics of parliamentary procedure and debate and have fun putting it into practice. Students write their own bills and work to see them passed by the TeenPact Legislature throughout the week.
Learning Their Way Around:
TeenPact and TeenyPact students learn their way around the State Capitol. Amazingly, just feeling comfortable with the surroundings and knowing your way around does a lot to help our students feel like this is THEIR Capitol and a place they want to come back to.
Singing and Devotion:
Students begin each morning with music as they sing hymns and familiar choruses. TeenPact Student Staff lead their peers through a devotional on great political leaders found throughout to Bible.
Boundary Breaking:
TeenPact students spend several sessions throughout their 4-day experience getting to know one another and developing an appreciation for the uniqueness of each person.
Important Interaction:
TeenPacters and TeenyPacters both have the opportunity to not only hear presentations by important and influential people in their state, but to interact with them personally. Political leaders enjoy spending time with our students and often share candid insights that inspire students to aspire for positions of leadership. Our hope is that every student will meet and encourage their legislators.
Friendships:
TeenPact Students - especially in the 4-day schools - often develop special friendships with one another that extend far beyond their experience at the Capitol.
Inspiration for a Lifetime:
Inspiring students is no easy task these days, but at TeenPact it is the most important task always before us. Taking otherwise boring subjects like committee hearings and lengthy bills and making them come alive is what we do best.
Zan Tyler is co-author of the book Anyone Can Homeschool and senior education editor for Crosswalk.com. She and her husband have three children and have been home schooling since 1984.

Have something to say about this article? Leave your comment via Facebook below!
advertise with us
Example: "Gen 1:1" "John 3" "Moses" "trust"
Advanced Search