The Adventure of Raising Boys
Paula Moldenhauer, Contributing Writer
Friday, March 10, 2006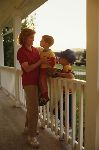 I have a friend who has only daughters. One day a bunch of us volunteered to prepare Thanksgiving baskets for the homeless. She was put in charge of a table of boys. Afterwards, she came to me, eyes wide. Said she understood my world for the first time. Instead of the normal girl chatter she was used to, she'd just been subjected to an hour of stories of injuries and the comparing of scars. (I think that was the day my son beat out the rest when they tallied the number of emergency room visits. He was quite proud.)
As my oldest son enters adolescence, I find myself trying to explain to him about girls—how punching them in the arm is not perhaps the best way to relate to them. But thankfully, I don't have to train him to feel protective of them. God must've just wired him that way. I'll never forget the time we were hiking in late spring. My daughter strayed a bit off the trail and we suddenly heard a screech. Before I could even assess the situation he had jumped to her aid, pulling her out of a snowdrift that covered her all the way to her armpits. I've also seen him defend little children and offer his coat to shivering females. Last winter was the first time I was the recipient of his warm jacket. I got this huge lump in my throat because it almost fit.
I guess my squiggly, wiggly boy days are passing faster than I know. Soon my house will be void of the banging noises caused when one of them jumps from the top bunk. Smelly hockey bags will no longer line my garage floor and "take it downstairs or outside" won't be a part of my daily verbiage. I bet I'll even be able to watch a chick flick in the basement without someone coming into the family room and shooting a mini-hockey puck. Until that day I guess I'll just pray for the energy to keep up, seek to embrace their uniqueness, and try not to gape too widely.
Originally published on January 8, 2007
---
A home schooling mother of four, Paula Moldenhauer is passionate about God's grace and intimacy with Jesus. Her website offers home schooling hints, book reviews. Visit her website at www.soulscents.us. You can contact Paula at Paula@soulscents.us.
Have something to say about this article? Leave your comment via Facebook below!
advertise with us
Example: "Gen 1:1" "John 3" "Moses" "trust"
Advanced Search
Listen to Your Favorite Pastors