The Heroism of Motherhood
Gretel Deem, Home School Enrichment
Monday, March 19, 2012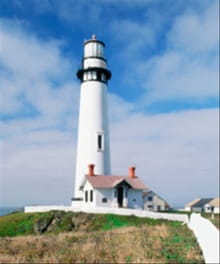 Sped Mother Becker, "Children, wake;
A ship's gone down, they're needing me;
Your father's off on shore; the lake
Is just a raging sea."
With the Long Point Lighthouse 14 miles away, her husband kept away from home by the storm, and the precarious state of the sailors' lives, she knew they had only one hope for survival. A strong, tall woman, 23 years old, six feet tall with 215 pounds of muscle, she stood on the beach, cupped her hands around her mouth, "and called for encouragement across the water," records William Ratigan in his account of the episode in his book Great Lakes Shipwrecks and Survivals. She told them, "Swim! I'll fetch you to shore. But swim!" Her presence was a witness to constancy and devotion. A bonfire going on the beach, hot tea ready to warm the men, she continued to cry out to the sailors on the shipwreck, volunteering that she would help them get to land if only they would jump overboard and start to swim.
One man, the captain of the vessel, finally put her words to the test. He jumped into the water and headed for shore. At first, she supported his efforts from the beach, as he struggled against the waves. When he began to go down just a few strokes out, she plunged into the water, dressed only in her house dress, and hauled him in to shore. The first mate came next, whom the captain tried to help bring in. Abigail came to the rescue of both men when the two began to flounder.
One by one, she repeated the act, as the men swam as far as they could and she hauled them the rest of the way—all but the cook. Frederick Stonehouse, in Women and the Lakes: Untold Great Lakes Maritime Tales, explains that the cook was frozen in fear in the rigging. Feeling helpless to battle the ferocious waves and horrid cold of the lake's stormy conditions, he was unwilling to move, but Abigail was not. She helped the rest of the crew, now safely on the beach, to put together a crude raft, row out to the wreck, cut the cook down, and bring him in.
Abigail's assistance to the crew did not stop at the beach. She not only saved their lives but sustained them as well. She welcomed them into her home, and with the meager provisions she had to feed her own crew, nourished the sailors, too. For six days, she "mothered" them with hope, encouragement, and whatever she could scrounge up from her cupboards.
Abigail Becker was rewarded for her efforts. Her heroic act of bravery was honored by the Canadian Parliament, who awarded her a 100-acre farm and $1,000 in gold. She was also awarded a special medal by the Life Saving Association of New York, because two of the men she rescued were U.S. sailors. She also received a lifetime supply of shoes for her and her family from the owner of the shipwrecked schooner. He paid her a visit shortly after the rescue, desiring to meet the woman whose compassion and courage had saved the lives of his men. He later sent a large crate full of shoes, clothing, and a little Bible for Abigail, inscribed with the gold letters, "To Abigail Becker, Life Saver of Long Point, Lake Erie, November 1854."
Rescuing a potty trainer from having a mess on the living room floor, or rescuing a 4th grader from giving up for good on learning, or rescuing our oldest child from a habit of self-condemnation and exaggerated critique, may not seem even remotely similar to the acts of valor a member of the United States Coast Guard performs on a daily basis. However, let us not forget to remind ourselves of how much God can do with even the simplest heartfelt act. Aren't we following orders and implementing our training, just like the Coast Guard rescuers?
Abigail Becker, a mother of many children, spent years devoted to the mundane tasks of being a mother. Being of a poor family, she had to be creative and resourceful in taking care of her brood. The bulk of her adult life was spent wiping tears, changing diapers, scrubbing dishes, cleaning floors, washing windows, calming quarrels. Only one day—indeed, only part of one day—did she spend her time as "a lifesaver." After she rescued the men, she went right back to mothering, now including the sailors in her care, until such time as they were able and ready to venture on. It was one day in her life for which she received heroic acclaim, but, as a mother, Abigail Becker spent most of her life before and after November 23, 1854, earning the title of "guardian angel and lifesaver."
Have something to say about this article? Leave your comment via Facebook below!
advertise with us
Example: "Gen 1:1" "John 3" "Moses" "trust"
Advanced Search
Listen to Your Favorite Pastors