The Odds Against Homeschooling
Timothy Palla, Contributing Writer
Monday, July 18, 2011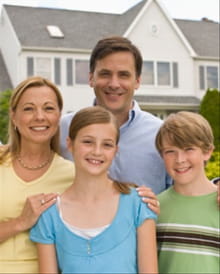 A "calling" also helps you persevere. If I apply for a job—because I think I'll like it or it will pay well—then I won't feel bad at all if I choose to leave it for something better. If, however, the Lord "calls" me to a task, I am more apt to stay when the going gets tough. Why? Because I didn't choose this on my own. It wasn't my bad judgment call. I wasn't misled or deceived. God led me here, and He knew everything that would happen. He knew that, with His help, I could handle it. It's better (and safer) to trust Him than to jump ship. Surely He knows more than I do.
So by the world's standards, I'm not qualified to pastor, preach, write for homeschooling magazines, train horses, shoe horses, build a house and stables, counsel people, organize educational clubs, or teach my own children in my own home. Oh, well. Being unqualified hasn't stopped me yet. Maybe one day I'll run for President.
"You don't have patience."
At times we didn't have it, but like any other virtue, the Lord laid the proper foundation and built His character in us so that the Holy Spirit could bear His righteous fruit of patience in us. If we had waited until we had our act together, we would still be waiting—or else we would have given up.
"You can't afford to buy all that curriculum."
Wow, that is almost a good argument! That is, until you consider the savings you will build up by not buying gym uniforms, band uniforms, brand-name clothes, duplicate items stolen from your children's locker, hundreds of leftover candy bars from those annual, semi-annual, and quarterly fundraisers, and gasoline to get you to all the blessed public events. See, you can afford all kinds of cool curriculum now.
Finances is one of the areas in which the Lord has really surprised me. My income has never been extravagant, yet the Lord has provided for my every need—and more wants than I could mention in one article. I have never had to beg, plead, join a pyramid scheme, play the lottery, or send chain letters to make ends meet. I have given to the Lord's work and to those who had nothing; after which, it seemed the Lord would load me up again.
Curriculum of all sorts has found its way into our home. Everything from music books to science books to Bible study aids. Most of it we purchased ourselves. A bunch was given. On top of all the curriculum we've purchased, we have also been able to afford uniforms, dress clothes for church, outfits for showing horses, sports equipment, and a myriad of other things. Homeschooling did not create a financial burden that crippled us and made us miserable. Actually, it did the opposite. It opened us up to the vast, creative resources of God. And He is still amazing us!
Homeschooling presents a host of challenges, but if God is calling you to the task, then survival and success are possible. Don't let the odds distract you—not even for a minute. Look to Jesus Christ for the inspiration you need to carry out the plan; find strength in His Word each and every day. Those obstacles (which He allows) are not meant to discourage you from doing His will. They are meant to strengthen you as He manifests His awesome grace to overcome them—one by one.
"For ye see your calling, brethren, how that not many wise men after the flesh, not many mighty, not many noble, are called: But God hath chosen the foolish things of the world to confound the wise; and God hath chosen the weak things of the world to confound the things which are mighty; And base things of the world, and things which are despised, hath God chosen, yea, and things which are not, to bring to nought things that are: That no flesh should glory in his presence." (1 Corinthians 1:26-29)
---
Timothy Palla is pastor of Fairview Baptist Church in southern Ohio. He and his lovely wife, Jennifer, have five children—Drew, Dane, Aidan, Ethan, and Meghan—and have been homeschooling since 1993. You may contact Pastor Palla at tpalla@rocketmail.com.
This article was originally published in the May/June 2008 issue of Home School Enrichment Magazine. Visit http://homeschoolenrichment.com/ to request a FREE sample issue today!
Have something to say about this article? Leave your comment via Facebook below!
advertise with us
Example: "Gen 1:1" "John 3" "Moses" "trust"
Advanced Search
Listen to Your Favorite Pastors