What's Next? Navigating the Final Years of Homeschooling
Naomi Musch, Home School Enrichment
Wednesday, June 17, 2009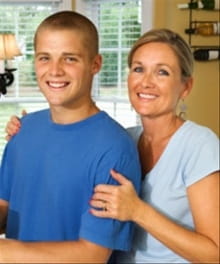 Ten or fifteen years ago, it was an anomaly to be acquainted with a homeschool graduate. The homeschoolers most of us knew were still of elementary age. Those rare families with students approaching high school age and continuing to homeschool were gazed upon in wonder and curiosity.
Then, in our small homeschooling communities, the first few graduations began to take place. One here, another there. It was interesting to see how different families held their graduation ceremonies. The first graduation ceremony our family attended took place in a garage. The parents presented their version of a diploma and talked about what a blessing and privilege it had been to raise and train their son. Soon after, graduations began to snowball until, before we knew it, we were attending as many graduation open houses for homeschoolers as we were for our other-schooled friends and family. Graduations began coming in all sizes, shapes, locations, and—literally—colors. Homeschool colors ranged from lilac to camouflage, celebrating each individual on his or her big day.
As one and then another homeschooler has reached that day when home education is declared "completed" (as if that ever really happens), we parents have begun to see the days quickly spiraling down toward the time when we will have only one or two, and eventually no one, left sitting around the kitchen table reading a classic aloud or trying to make puppets of famous presidents.
Like the Titanic, we suddenly sense that our glorious homeschooling ship is listing a little to the side, and like the band we play on, feeling a deep, sad inevitability about what is to come, but determined to play on until we go down with the ship.
How we play out the final years of our homeschooling experience, and what we do "after homeschooling," are questions we can consider before those days arrive.
As the Final Years Approach
Parents who have a young adult closing in on graduation frequently share a common anxiety over what they should be doing to best redeem the time that remains, or how best to offer guidance for the future. For this I have two suggestions.
1. Remember first and foremost that your child's future is in God's embrace.
The best education you are capable of offering your children cannot ensure them success. They will face problems. Though we all know this, it's hard to accept when we see our children being battered by the big, mean world. We wonder if we somehow could have prevented it. The reality is that all which will come to them is in God's power to control, whether blessing and triumph or painful and refining fire. But whatever is in store, we are comforted by God's promise, "For I know the thoughts that I think toward you, saith the Lord, thoughts of peace, and not of evil" (Jeremiah 29:11).
The mere fact that God does indeed have plans for our children should calm our anxious hearts. We are not left on our own to wonder and worry and finagle our children's futures. We can do more than figuratively throw our hands up in the air. We can lift them to our Father, holding our children before His throne and yielding their destinies to His will.
While that doesn't mean we should sit by and aimlessly wait for life to happen to our kids, it does take the burden off our weak shoulders and places it on the much stronger, broader shoulders of our faithful heavenly Father and Friend. So the first thing to do is to take a deep breath and remember that we have only been lent our children by God for a season. He hasn't forgotten whose children they really are, and He is willing to take responsibility for them.
Recently on Homeschool Update
Have something to say about this article? Leave your comment via Facebook below!
advertise with us
Example: "Gen 1:1" "John 3" "Moses" "trust"
Advanced Search
Listen to Your Favorite Pastors