What's Next? Navigating the Final Years of Homeschooling
Naomi Musch, Home School Enrichment
Wednesday, June 17, 2009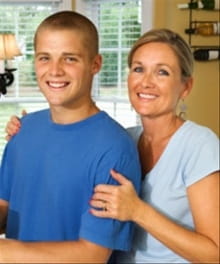 If God is leading your student away from college and toward the work force upon graduation, then it would be wise to teach him or her how to write a glowing resume and to spend additional time practicing interviewing and communication skills. Help your children research types of work that interest them and find out what would be required to apply. Some jobs require testing almost as vigorous as taking a college entrance exam.
If your student simply cannot make a decision about those days after graduation, prayerfully consider offering the option of travel. A missions trip or a long stay with friends or family in another state or country might open up doors of opportunity and passion neither your children nor you have ever considered. Perhaps, as a family, you could go away to a quiet place for a weekend, just for the purpose of praying over the plan God has for your son or daughter.
Working a part-time job during the high school years can also help with decisions for the future. Labor, ranging from farm work and house painting to landscaping and babysitting, helped my teens improve both their work ethic and self-confidence. It also gave them ideas about what kinds of things they enjoyed or didn't enjoy doing.
Ultimately, you don't need to panic about the final homeschooling years. Unlike past days when our grandparents remained in the same career for life, people today change career paths often through their lives. An individual who may not wish to pursue higher education at age 18 might decide to do so with vigor at age 25. Goals change with individual growth, and God is in charge of that growth. The main thing is to help our children grow in their dependency on Him during their final homeschooling years
Life for Parents After Homeschooling
Even as we weigh all the issues of homeschooling our teens, in the recesses of our thoughts lies the realization that life will change dramatically for us when they graduate. We may mentally daydream of undisturbed hours with no demands on your time, or we may do the complete opposite and worry about feeling lost with too much time on our hands. But the fact is, being through homeschooling does not mean that our days have ceased to have value and meaning or that we no longer have a call on our lives.
We will always have the call of family on our hearts, but our ministries to them will be manifest in other ways. The lives of our children as adults offer an entirely new scope of possibilities.
I thought I was done helping my firstborn through school until she began bringing me her college term papers for help with proofreading and editing. My sister-in-law has homeschooled her children straight through. Now her two oldest attend college—online. With more and more people using the Internet to earn their degrees, the tendency to "homeschool" through college grows.
It's likely too that before you know it, those grown children will be marrying and having children of their own. We as grandparents will have plenty of opportunities to impact their lives.
There will be other joys as well. The startling thing about having adult kids is seeing how they suddenly become nostalgic about "the good ol' days." They will come home to reminisce and help make hay or stack firewood. They will bring friends who will call you "Mom." They will pull out their old school journals and photo albums and tell stories that will leave you laughing and shaking your head.
And even when they don't return, and you notice how quiet your house is or what an abundance of bedroom and storage space it now has, God will continue to provide you with opportunities for acts of service. As long as we continue to realize that His call is still on our lives, He will provide us with ample opportunities for ministry to others that could involve many things, such as travel, expanding our talents, further teaching, and almost certainly, a time of renewal in our marriage relationships.
King Solomon was indeed wise when he reminded us that there is a time in life for every special thing. If we keep our focus on what God is leading us to do through each of them, we will know "what's next" at every stage.
---
Naomi Musch and her husband Jeff have homeschooled for 15 years. They are the parents of two teen and three adult children. Naomi has a newsletter dedicated to the encouragement of homeschoolers which can be found at www.applesofgoldnews.com
Originally published in the May/Jun '09 issue of Home School Enrichment Magazine.
Recently on Homeschool Update
Have something to say about this article? Leave your comment via Facebook below!
advertise with us
Example: "Gen 1:1" "John 3" "Moses" "trust"
Advanced Search
Listen to Your Favorite Pastors