1 Corinthians 13: Wisdom for Choosing a Good Spouse
Kathy Collard Miller, D. Larry Miller, Larry Richards, Ph.D, Authors
Thursday, October 04, 2007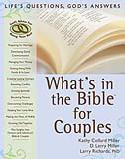 Genesis 24:4 But will go to my country and my own relatives and get a wife for my son Isaac.
This story of Abraham, his servant, Rebekah, and Isaac is a beautiful account of a father who wanted the best for his son, a servant who honored his master and prayed for direction, a woman who was willing to go on an adventure, and a son who received the gift of a wise wife that his father provided. Each person trusted God, facing the challenges that came their way.
In his old age, Abraham sent his servant to find a bride for Isaac from among his relatives in the city of Nahor in the land of Mesopotamia. When the servant arrived there, pausing at a well, he prayed for God's guidance and immediately met a very helpful woman named Rebekah, who offered to water his camels from the well. To his delight, he discovered that she was Abraham's great-niece – the granddaughter of Abraham's brother, Nahor. The servant proposed marriage to Rebekah and her family on Isaac's behalf, and she left her family and country to become Isaac's wife. When they were united, Isaac quickly fell in love with Rebekah.
---
How Others See It

David and Heather Kopp
"Isaac and Rebekah went on to have struggles in their marriage, mostly over their children. This doesn't mean they were wrong for each other. It simply reminds us that even a marriage "made in heaven" must be lived out day-to-day on earth – with and in spite of our human shortcomings."
---
The story of finding a wife for Isaac can also be viewed as an analogy for how God makes his children a bride for Christ. God the heavenly Father sent his Holy Spirit to the church so that it would become the bride of Christ. In like manner, God wants to guide each of his children to the spouse of his choosing.
Love Barometer: How Does Your Beloved Measure Up?
1 Corinthians 13:4-8a Love is patient, love is kind. It does not envy, it does not boast, it is not proud. It is not rude, it is not self-seeking, it is not easily angered, it keeps no record of wrongs. Love does not delight in evil but rejoices with the truth. It always protects, always trusts, always hopes, always perseveres. Love never fails.
If you're wondering what kind of spouse you'll make or whether the fiancé or financee you love will be a good spouse, check out the wisdom of God's basic description of love. He characterizes love in such a way that you can evaluate whether you're giving and receiving true love.
---
How Others See It
William L. Coleman
Sometime when you are asking yourself what kind of a partner you will make, read 1 Cor. 13: 4-8. It is the world's greatest description of love. Take a brief survey of what love does and apply it to your coming marriage.
Remember that when our emotions are involved in a situation, it's very easy to lose perspective. Someone once told me, "Emotions and feelings have zero IQ," and I think that's a good thing to remember. You cannot trust your emotions. They're dumb sometimes! Those juices get flowing, those romantic notions start whirling around in your head, and you can lose perspective in an instant.
---
"Love is blind," someone once said, and actually, it's true. When we're dating and falling in love, we tend to overlook the characteristics of our loved one that could potentially create difficulty in our future marriage. We might think:
Have something to say about this article? Leave your comment via Facebook below!
advertise with us
Example: "Gen 1:1" "John 3" "Moses" "trust"
Advanced Search
Listen to Your Favorite Pastors