Are You Remarried? Stepfamily Myths and Expectations
Gil and Brenda Stuart, Authors, Restored and Remarried
Saturday, August 20, 2011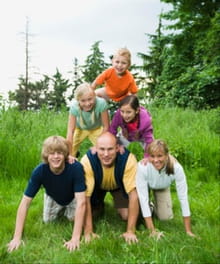 Both situations have huge emotional consequences. One thing that we remind ourselves often is to put ourselves in our kid's shoes. Don't under estimate the positive and negative emotions you receive from your kids. They can both happen at the same time!
5. You both learned from past mistakes and won't make them again.
Be open to revisiting past blunders even though you felt you dealt with them. Make sure you haven't missed anything. Just because you feel you have dealt with it and "put it on the shelf" doesn't mean you can't pull it down to look at again. This is a new relationship now and may bring new light to old stuff. The circumstances and attitudes of your previous actions or motives, requires a true change of heart. Don't sit there so long that you have a pity party or get totally stuck. Do business and move forward… always forward.
These are just a few common myths. There are lots more, we're sure. For us, just facing the reality of these false dictates has helped us adjust our expectations so that we can be more effective with our kids and more loving to each other.
Do you know why most relationships fail? You might say, adultery, addiction, or abuse and those would be very good reasons. But one of the main reasons relationships fail is because of flat out selfishness. It's more important for me to get what I want, the way I want it right now. All I know is when I (Brenda) serve my husband, an incredible thing happens. He serves me back! I don't ask him to, it just happens. We both serve each other. This is such a simple act that can absolutely revolutionize your marriage.
Just to clarify, this is not a contest to see who can out serve one another. It might be as simple as bringing your spouse a cup of coffee in the morning. I think sometimes we treat our friends better than we treat our spouses. If you can't handle the word "serve" yet, try this: just be nice to each other. I'm sure you have heard your mom say, "a little bit of kindness can go a long way." Do you want a GREAT marriage? Keep in mind this whole "selfishness component." It can sneak in when you least expect it!
During our stepfamily adventure, over and over it is confirmed to us how important our marriage is. We DO NOT want our kids to experience another divorce. We want them to experience what a healthy marriage looks like. Our passion and focus is to keep our marriage strong; not only for the sake of our kids, but for each other and the legacy of this new family. Our byline is:
"If you ain't got the marriage you ain't got nothin'."
Origianlly posted March 25, 2010.
---
Gil and Brenda live in Vancouver, Washington. They have 7 children between them, ages 18-29. Gil graduated from Bethany Bible College; he currently is an insurance broker and active in the community with marriage and family issues. Brenda was on staff as Children's Pastor of their church and now works with a youth development organization and is involved with marriage and family initiatives.
Gil and Brenda deliver a fresh style of encouragement to this ever-growing population in society— the blended family. Willing to speak the obvious from their own step family adventure, the Stuarts share heart to heart as they walk the walk. Their book, Restored and Remarried was recently released along with their 8 week workbook. Gil and Brenda are available for seminars, workshops and retreats. Find them at www.restoredandremarried.com.
Have something to say about this article? Leave your comment via Facebook below!
advertise with us
Example: "Gen 1:1" "John 3" "Moses" "trust"
Advanced Search
Listen to Your Favorite Pastors