Are You 'Speaking Greek' in Your Marriage?
Dr. David B. Hawkins, Contributing Writer
Saturday, December 10, 2005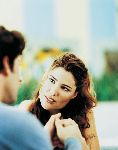 If speaking Greek doesn't work, what are some skills you might try in your marriage to solve problems and settle issues? Try speaking a language your spouse understands.
1. State exactly what you are feeling about an issue, what exactly you think, and what exactly you want. No assumptions, innuendos or vague statements. Just the facts -- as you see them.

2. Do not attack your mate. This does not help in solving problems. Assume that you are both doing something wrong that can be changed.

3. Address the problem. Stay focused. When one drifts, call them back to the central issue and your desired outcome.

4. Manage your emotions. If you become too heated, take a break. Avoid drama — maintain an even-tempered, concise and clear discussion about the issue.

5. Leave room for your mate to have their opinion. Understand that this opinion is as much about them as it is about you. Make it safe to have perceptions, opinions and thoughts, knowing these stem as much from their past as the present situation.

6. Make agreements using negotiation. Always move the conversation to things that you already or will agree upon and an outcome that feels good to both of you. .
With practice Kevin and Kendra learned to communicate effectively with one another. They learned to keep things simple, stick to one topic at a time and ask for exactly what they needed. They reached agreements and stuck to them. They enjoy their marriage more now than ever before.

Are you having trouble with communication — speaking Greek more often than relating in a healthy way? Speaking a common language, filled with grace and generosity, will cut through many conflicts. The Apostle James says many of our struggles in relationships stem from our selfish desires — trying to push our point, rather than communicating effectively. (James 4:1) Listening to what your mate wants — what they really need — and responding accordingly, will end much of the tension in your relationship. Stop speaking Greek and learn how to listen and share from the heart. You will enjoy new peace in your marriage.
Originally posted on Crosswalk Marriage in December 2005.

This article is third in a series on nine mistakes most couples make. Read part 2: Distant Elephants: The Issues We Avoid in Marriage.


_________________________________________________________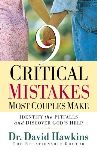 This article was adapted from Nine Critical Mistakes Most Couples Make (Harvest House Publishers, 2005).

Dr. David B. Hawkins is a Visiting Professor at International Christian University and specializes in interpersonal relationship counseling as well as domestic violence and emotional abuse in relationships. He has been a frequent guest on Moody Radio Mid-day Connection, Focus on the Family, and At Home Live. You can visit his website at www.YourRelationshipDoctor.com.

Do you need sound, Biblically-based advice about an issue in your marriage or family? Submit a question to Dr. David's new advice column by contacting him at TheRelationshipDoctor@gmail.com.

Have something to say about this article? Leave your comment via Facebook below!
advertise with us
Example: "Gen 1:1" "John 3" "Moses" "trust"
Advanced Search
Listen to Your Favorite Pastors