When One Spouse Abandons the Faith
Dr. David B. Hawkins, The Relationship Doctor
Wednesday, March 06, 2013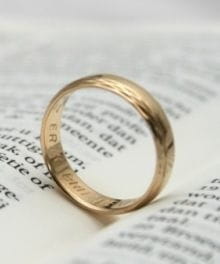 Dear Dr. David,
My husband and I were married just over three years ago. For the first several years we went to church together regularly. We were in a Bible study, and even went to pre-marital counseling to help us adjust to a blended family. I was very excited to be marrying a Christian man.
About a year ago he told me that his spiritual beliefs were different from mine. He told me he no longer believed in Jesus as his Lord and Savior. He started reading New Age material and refused to go back to church with me and our children. I was willing to find a church where we both felt comfortable, but he refused to go to church again. As you might imagine, I am devastated and not sure what to do. I feel manipulated and trapped and am considering leaving him. He is not the man I fell in love with and never would have married him if I had known this was going to happen. I have been praying for him and am continuing to attend church with our children. Still, it feels like something very important is missing in our marriage. What more can I do?
~ Alone in Church
Dear Alone:
I sense your anguish. There is nothing sweeter than worshipping side by side with your mate. You had that for a season, and now, for uncertain reasons, it is lost. He has lost his love for the Lord, and this is sorely disappointing to you. Something important is missing.
Your note says he has drifted away from the church and the Lord. You give no mention of other troubles that may be going on. I wonder if he is struggling with other issues, and pushes away from the church because of conviction or inner struggles. When we are not right in our spirit, or carry guilt or pain, we often push away from the convicting power of the Holy Spirit.
I am also reminded of the words of the Apostle Peter, when he instructs wives "to be submissive to your husbands so that, if any of them do not believe the word, they may be won over without words by the behavior of their wives, when they see the purity and reverence of your lives." (I Peter 3: 1-2) While you are experiencing loss, you also have an opportunity to pray for your husband and witness to him by your behavior.
You also note your children are still attending church. They have an opportunity, as well, to show the power of God in their lives. Perhaps in time, as he sees the change that being in the presence of God brings, his heart will soften. Look for ways to share your spiritual joy with him, not in preachy terms, but in the radiance of Christ. In the same passage the Apostle Peter goes on to say, "live in harmony with one another; be sympathetic, love as brothers, be compassionate and humble. Do not repay evil with evil, or insult with insult, but with blessing, because you were called so that you may inherit a blessing." (I Peter 3: 8)
Continue to seek the Lord in this trial, and He will give you His peace that passes understanding. Perhaps in time your husband will return to church with you.
Dear Dr. David,
After many years of deep depression I finally sought help. I finally became willing to seek counseling and take medications and feel much better. Unfortunately, now my wife of fifteen years has no feelings for me. I, for the first time in years, understand what the depression did to her--all the emotional turmoil and giving of herself when I was unable to reciprocate. She is so depleted, she even asked for a divorce.
I have tried to tell her that I am a different man, but every time I slip in any way she is reminded of the past many years. I fear that even if I were to be perfect, which I cannot be, it would not be enough for her. She still feels like she has to walk on eggshells, when that really isn't the case. I have tried to prove my love and affection for her, but she cannot accept it. What do I do, and where do I go from here? It is difficult to accept that divorce is the right thing to do, but she is unwilling to move forward.
Have something to say about this article? Leave your comment via Facebook below!
advertise with us
Example: "Gen 1:1" "John 3" "Moses" "trust"
Advanced Search
Listen to Your Favorite Pastors