Becoming the Woman of His Dreams
Sharon Jaynes, Girlfriends in God
Thursday, February 17, 2011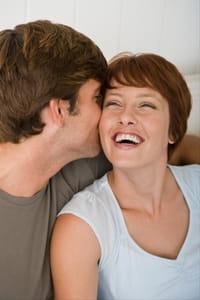 "And they lived happily ever after."
Wait a minute. Isn't that supposed to be the end of the story, rather than the beginning? Well my friend, I think that has been the problem in our marriages all along. To have a great marriage, we must begin with the hoped-for end in mind. Every word we speak, every decision we make, and every action we take will either move us closer to or further away from that end. And as wives, we have the opportunity to play the leading lady with the starring role in the grand drama of marriage by becoming the woman of our man's dreams.
So what does it take to become the woman of your man's dreams? In order to answer that question, I interviewed and surveyed hundreds of men to find out what they longed for. As I compiled their responses, I noticed seven qualities of the dream wife that kept coming up time and time again. Let's take a look into the hearts of men.
Prays for Him
I remember sitting in front of a mirror on my wedding day, staring at the reflection of a woman so full of hope and promise. I was overflowing with love for this man of my dreams who, in just a few moments, was going to be my husband…forever. Then my musing took a twist. Doesn't every bride feel this way about her groom on her wedding day? What causes fifty percent of marriages to end in divorce? What could possibly mar this beautiful union? Staring at myself in the mirror, I made a commitment that when I said the words, "I do," then "I would." I made a promise to God, to my husband, and to myself, that I would do everything within my power to make our marriage a "success." I quickly learned that "in my power" was not enough. I had to depend on God's power working in and through me to be the wife my husband needs. One of the most important things we can do for our marriages is to pray for our husbands and our roles as wives. And while prayer was not the number one response of the men on the surveys, we cannot accomplish the following six without it. Prayer is where a great marriage begins.
Respects Him
"I've been shut up, shut down, shot down, ridiculed, disregarded, overlooked, overbooked, and overwhelmed…I know I was made for a reason. I know that, in God's eyes, I count. So, I simply want to find someone who believes in me."
No, these are not the lyrics from the latest country song, but the words from one of my survey respondents. It appears Aretha Franklin isn't the only one wanting a little R-E-S-P-E-C-T these days. The longing for respect was very high on a man's wish list and we shouldn't be surprised. In the Bible, Paul wrote to both men and women about their various roles in marriage. "Each one of you [men] also must love his wife as he loves himself, and the wife must respect her husband" (Ephesians 5:33). Just as a woman longs to be cherished and loved, a man desires to be respected. It is one of the most precious gifts a wife can give.
Webster defines respect as the "special esteem or consideration in which one holds another person." We show respect by supporting his decisions, speaking highly of him to others, valuing his opinions, fulfilling his requests, honoring his leadership, and appreciating his provision.
Adores Him
It was a beautiful sunny day in Peoria, Illinois when Jill surprised her husband with a day full of birthday treats. It began with breakfast in bed and continued with a stack of note cards tied with a red ribbon. "You are wonderful because you are handsome." "You are wonderful because you are a great listener." "You are wonderful because you make people feel special." Through laughter and tears, Jeremy read twenty-five cards aloud. Each became a jewel in his birthday crown. Jeremy's birthday continued with surprises, and at days end he cupped Jill's face in his hands and whispered, "You love me so much."
Have something to say about this article? Leave your comment via Facebook below!
advertise with us
Example: "Gen 1:1" "John 3" "Moses" "trust"
Advanced Search
Listen to Your Favorite Pastors