Behind Every Successful Woman...
David Sanford, Sanford Communications, Inc.
Thursday, June 03, 2004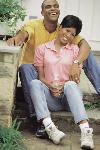 "faithful instruction...on her tongue."

Pilate was warned by his wife not to harm the Lord Jesus Christ (Matthew 27:19). Yet he chose to ignore her wise counsel and had the Son of God crucified instead. The Good Husband is careful not to repeat Pilate's folly.

I enjoy actively listening to my wife. She has taught me much about God and about life. No, I haven't relinquished my responsibility as the spiritual leader in our home. But we enjoy mutually stimulating one another spiritually and intellectually. No day is complete unless we have an opportunity to share new insights with each other. I'm never the loser when I give Renée my undivided attention as she shares with me.

Hudson Taylor is credited with starting the China Inland Mission, one of the most successful groups to penetrate China with the Gospel before World War II. But the secret of Taylor's success was a wife who poured every fiber of her being into him and their work. Taylor leaned heavily on his wife Maria for wisdom and strength in those early pioneering days. Biographers say he never took a step without consulting her.

Why are so many couples failing in their marriages? Howard Hendricks suggests this answer: "They have taken no time to cultivate their own relationship, listen to each other, and develop common interests." The Good Husband strengthens his marriage by taking the time to listen to his wife. He respects her opinions and heeds her advice.

Praising

Finally, the Good Husband praises the virtues and accomplishments of his wife (31:29). He doesn't flatter her, but praises his wife for her fear of God (31:30) and her successful endeavors (31:31). He lets others know that his wife is extra special. It means much to a woman to know her husband speaks highly of her to others.

A man can never encourage, compliment, praise, or build up his wife too much. The Good Husband is lavish in his praise. Everyone craves appreciation and a compliment, and wives perhaps need (and deserve!) it the most. A husband can make a tremendous impact on his wife by consciously and consistently looking for opportunities to praise her. There are few transforming forces more powerful than loving praise.

The Good Husband doesn't expect his wife to automatically duplicate the virtues of the Wonder Woman described so poetically in Proverbs 31. Instead, he encourages his wife in her process of personal growth and maturity. And she does the same for him. Imagine what God could do through a couple committed to doing just that!

David Sanford is president of Sanford Communications, Inc. David is co-author (with his wife, Renée) of the 400 pages of devotional application notes for the Living Faith Bible (Tyndale House). The Sanfords live in Portland, Oregon, and have five children.
Have something to say about this article? Leave your comment via Facebook below!
advertise with us
Example: "Gen 1:1" "John 3" "Moses" "trust"
Advanced Search
Listen to Your Favorite Pastors