Conquering Lust
Gary Smalley, The Smalley Relationship Center
Tuesday, February 12, 2013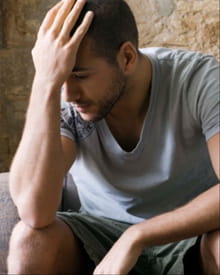 Lust makes us think that having some person we don't presently have would make us happier. Often that person is simply a figment of our imagination. Even if the person is real, we often attach character traits to him or her that are not real. Usually our lust focuses on sexual involvement. We imagine someone who is terribly fond of us and who prefers our presence and intimacy over anyone else's. We imagine that if we had such a person to hold in our arms, it would be exciting and wonderfully fulfilling. This is a terrible deception, for we forget or ignore the devastating consequences of living out our imaginations.
Sensual imaginations reveal our selfish desire for stimulation. Unchecked, sensual stimulation actually increases the desire. We see this exhibited in several ways. For example, one of the primary reasons people smoke or consume alcohol or drugs is to stimulate their physical senses. As a person continues in this selfish frame of mind, the desire grows until he or she needs regular and increasing doses of stimulation.
Psychiatrist Gerald May observes that God created us to attach to him. All humans have a God-given, built-in need to attach to God in a meaningful way. When we ignore God, we instead try to attach to his creation—people, things, and career. This is where all types of addictions are formed.
Even if we feel we've conquered lust, the emotion can strike when we least expect it. One friend discovered this when he spoke at a Christian conference. Dick's wife was in the final months of pregnancy, so they were not as sexually active as usual. While several hundred miles away from home, Dick suddenly found himself infatuated with a woman attending the conference. She was attractive and seemed to enjoy his company. But while admitting his normal sexual drive was heating up, he also knew that yielding to that desire would bring at best only a very temporary satisfaction. He came face-to-face with his own selfish desire to be stimulated and realized that the devastating long-term consequences to his ministry, to his wife and kids, and to his relationship with God would far outweigh any momentary pleasure. That knowledge helped him control his physical drive, which took about forty-eight hours to subside.
The motivation behind extramarital affairs seems to be very different for men and women. Men tend to lust for physical release or conquest, viewing women as challenges for satisfying their sexual drives. Women, on the other hand, tend to involve themselves in affairs because of their deep need for communication and a meaningful relationship—a deep need that is not being met.
Recently we've seen a huge increase in affairs on the Internet. These affairs don't need to be consummated to cause a serious threat to a marriage. Many women find themselves more comfortable talking with a stranger in a chat room than to their own husbands. Many men enjoy the power they seem to have counseling a woman by means of an impersonal computer rather than face-to-face. In too many cases, men and women let their imaginations go wild in these relationships.
How can we use lust to strengthen our relationship with God?
First, by recognizing the basic motive behind this emotion. Lust is not serving a person in love; it is viewing a person as an object to be used. This happens even within the marriage relationship. With Norma, I had to realize that I was violating God's law by trying to use her for my own happiness rather than loving her by serving her needs.
Second, lust can reconfirm our awareness that God -- not another's body, not even our mate's -- is the source of our fulfillment. As pleasurable as sex can be, it can never substitute for the lasting joy and satisfaction of knowing God.
Recently on Most Popular Tab
Have something to say about this article? Leave your comment via Facebook below!
advertise with us
Example: "Gen 1:1" "John 3" "Moses" "trust"
Advanced Search
Listen to Your Favorite Pastors