Conquering Lust
Gary Smalley, The Smalley Relationship Center
Tuesday, February 12, 2013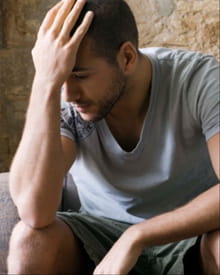 Third, in the midst of lustful thoughts, as an act of our will, we can pray something like this: Lord, I know there are times when I wish my mate acted sexier. And there are even times I have entertained thoughts about being in the arms of another person. All the advertisements on TV have tried to convince me it would be exciting. But right here and now I continue to trust you to energize my life and provide all I need. I am willing to rest and wait in your faithfulness. I don't even know all I'm trying to gain from these lustful thoughts, but you know, and I know you'll meet my needs as you always have.
Because God knows our thoughts, we can share them with him and admit that we don't understand. That's what Paul instructs us to do in Romans: [God's] Spirit helps us in our weakness. We do not know what we ought to pray for, but … he who searches our hearts knows the mind of the Spirit, because the Spirit intercedes for the saints in accordance with God's will (Romans 8:26-27).
What practical help can we offer those stuck in the quicksand of lustful desire? Some try to struggle out of the grip it has on their lives through visualization, masturbation, or regular participation in sexual activity. But the more we struggle, the deeper we sink. If no one is available to pull us out, the one way to escape from quicksand is to relax, lie back in the sand, take a deep breath, fill your lungs with air, and allow your limbs to float to the top. We can take similar action with lust by not fighting our thoughts and desires and instead ask Jesus to perform what he promises to do release us from bondage. He can supernaturally pull us out as we rest in him.
If no one is available to pull you out of quicksand, you can still escape by slowly moving your arms above your head, putting them slightly into the sand, and swimming slowly to the edge, as if doing a slow-motion backstroke. Experts say it may take several hours to swim just a few feet. But freedom is as close as the bank. When battling lust, we can do the same thing by persistently looking to Jesus for strength and patience.
I have known men stuck in the mire of lust who didn't make it to freedom for several months. It may take a year or more for some to swim to freedom. Day after day we must reconfirm truths given to us by Jesus. God promises he is faithful to answer the requests of his children. Therefore I tell you, whatever you ask for in prayer, believe that you have received it, and it will be yours (Mark 11:24). And, If you remain in me and my words remain in you, ask whatever you wish, and it will be given you (John 15:7). Real freedom comes from abiding in a close relationship with God and from allowing God's Word to become alive in us. The Bible urges us to live a life of love …. But among you there must not be even a hint of sexual immorality (Ephesians 5:2-3). And, It is for freedom that Christ has set us free. Stand firm, then, and do not let yourselves be burdened again by a yoke of slavery (Galatians 5:1). It is God's will that we experience freedom from lust, so we can stand in his line daily, knowing it is just a matter of time before he will bring us freedom from sexual slavery.
Once we're free from the quicksand, we're usually weak from the effort. Here are four ways to regain strength and remain strong so we don't fall back into the mire:
First, rehearse the negative consequences of sexual involvement, even in the midst of lustful thoughts. Remember what it feels like to be trapped. The consequences are far more than we can mention here, but they include enslavement to passion (see Galatians 5:1); reinforcement of our self-centered tendency that diminishes genuine expression of love; callousness of our soul (see Ephesians 4:19); and, of course, the possibility of catching a sexual disease. In other words, the truth and life of God are darkened within us when we engage in unrighteousness (see Romans 1:18-32).
Recently on Most Popular Tab
Have something to say about this article? Leave your comment via Facebook below!
advertise with us
Example: "Gen 1:1" "John 3" "Moses" "trust"
Advanced Search
Listen to Your Favorite Pastors