Adventures in Matrimony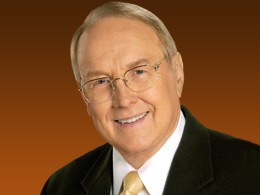 "The first two years of our marriage we built a really good friendship," David said. "We enjoyed each other. Without getting advice we fell into some good habits. It was easier for us to get our marriage off to a good start because life didn't go at such a fast pace. We didn't have faxes, e-mails, cell phones, all those conveniences that are supposed to free us up." Not to mention that American culture was more marriage-friendly in those days, and divorce wasn't an option.
Though they started off well, David and Claudia Arp had no idea their marriage would one day be an example to people around the world. After they married, they alternated working so each could finish an education. Then David went into the military followed by a job with IBM while Claudia did substitute teaching and had their first two sons.
Sprechen Sie Deutsch?
A few years after David and Claudia became Christians in 1966, they joined Campus Crusade for Christ, working in Knoxville, Tenn. And in 1973 an opportunity arose to go to Germany with Crusade. "David was excited, and I was horrified," Claudia says. "I didn't want to go. We didn't agree. We prayed together. We prayed separately. Finally, I realized that David's sense that God was leading us there was stronger than my fear of moving to Germany."
Unfortunately -- and fortunately -- they went to Germany unprepared. They accepted their three-year assignment on six-weeks' notice, being assured they didn't need to know the language. But they did need the language, and they needed time to learn about the culture and people. They arrived in Germany without a place to live, English-speaking friends or a phone. Living in a VW camper for three months provided plenty of "together" time, which led David and Claudia to realize the good marriage they started out with wasn't doing so well. By this time they had three children and rarely spent time together.
"We were so busy in Knoxville that if God hadn't picked us up and moved us to Germany, I'm not sure what would have happened to our relationship. We were definitely not making our marriage a priority," David says. "I think in His wisdom God knew He could get our attention better in a foreign country where we had time to listen to His voice and to each other."
As they were learning the language and the culture, David and Claudia readjusted to one another.
"A lot of marriages are this way: There's nothing big that's wrong, but there are little barnacles building up on their marriage ship that need to be chipped away," Claudia says. "We were at that point. What we needed was time. In Germany we had time to scrape off those barnacles and focus on us."
Into their second year in Germany -- it was their 12th year of marriage -- friends noticed a change in David and Claudia's relationship, asking, "What's different?" That's when the Arps realized God was significantly shaping their relationship and giving them opportunities to help other couples with their marriages. "We noticed that if things weren't right in a marriage, people sure weren't going to share their faith with someone else," Claudia says.
With this understanding, the Arps drew out a stick-figure plan of how a marriage could impact a community. This drawing later became the blueprint for their Marriage Alive ministry. As the Arps neared the end of their three-year European commitment with Crusade, they wanted to continue working with couples but weren't sure how. Over a weekend they listed ways God had used them to help others. Their list pointed them in the direction of their desires. They remained on staff with Crusade but first spent a year in the States researching marriage and family. The Arps returned to Europe at the end of the year, settled in Vienna and put together the Marriage Alive seminar, which they lead in the United States and Europe.
Recently on Divorce and Remarriage
Have something to say about this article? Leave your comment via Facebook below!
advertise with us
Example: "Gen 1:1" "John 3" "Moses" "trust"
Advanced Search
Listen to Your Favorite Pastors