Choosing Between Spouse and Lover: What If It's Love?
Joe Beam, President, Marriage Helper
Friday, December 14, 2012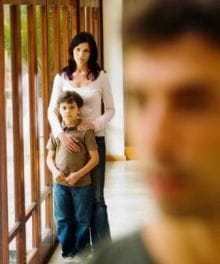 "Your future will be determined by whether you choose to continue with the divorce and pursue Sheila, or to end things with Sheila and work out your marriage. I know you feel your marriage is hopeless, but that's part of being in limerence. I'm fairly sure, John, that if I had met you before you developed relationship with Sheila, you might not have categorized your marriage as great, but you would not have listed any major problems, either. However, I'm just as sure that you now have a list of frustrations and disappointments with Melinda and your marriage. We call it rewriting history. That means that your mind actually focuses on any bad thing that happened with Melinda and makes it worse. Because of the intense emotions for Sheila, your own conscience had to justify your leaving Melinda. If you want to tell me all the terrible things about her, I'll listen, but what you feel and believe about her now is tainted. Your memory is real, but it isn't valid. Whether you meant to or not, you've changed things in your memory to make what you want to do acceptable.
"In short, John, unlike your pastor, I believe you love Sheila. I also know where this love leads. If you were both single, I'd congratulate you. But you are married. Divorcing your wife to be with Sheila creates negative consequences for you, Sheila, Melinda, your children, parents, friends, and the kingdom of God.
"You may justify it in your mind and proceed. It may even seem good for a while. Nevertheless, the limerence will fade. When it does, you will come face-to-face with the consequences for you and all those others I mentioned.
"We will help you then or we can help you now. If you let us help you now, there will be far fewer awful consequences. Do the right thing, John, and good things happen. They will not be as exhilarating as limerence, but they are much deeper and more fulfilling."
His eyes indicated our conversation was over; he barricaded his mind and heart from me. I had anticipated that and had come on as strongly as I did because I feared I would have no second chance. Therefore, I had tried to plant as many seeds as possible.
The Decision
That conversation occurred a few years ago.
Though hardly anyone believed it could happen, John decided to end his relationship with Sheila and try to restore his marriage. About a year after he made his decision, he explained it to me, "I hated you for saying it, but you were right. I'd become someone else because I had let go of what and who I am. After a lot of soul-searching, I realized I wanted to be me again. I loved Sheila, but finally accepted that the future I desired for us could never equal the fantasy I'd built in my mind. I wanted to be with her – there are days when I miss her intensely – but deep inside I wanted peace with myself, with my God, and with my children. At first, I didn't really care about making peace or reconnecting with Melinda, but with time that worked out as well. I love her…guess in a way I always did. She's a good woman and we have a good life. Not only did she forgive me, she stood up for me to her family, our friends, and our church when she took me back.
"It feels good to know I did what was right. Always will."
John and Melinda worked on healing their marriage. They allowed me to help them understand how he had fallen into limerence and how to learn to love each again. Actually, they learned how to love each other more than they ever had before.
It was not easy for John or Melinda. His deep emotions for Sheila did not end immediately. They had taken time to develop and, therefore, they took time to recede. During the process, John went through a grief similar to that experienced by people who lose loved ones to death. However, he worked through it.
Admirably, Melinda understood and coped with amazing strength. She forgave John. She forgave Sheila, though for obvious reasons she maintained no contact with her. Neither did John, though when he ended his relationship with Sheila, he worried about her future. Sheila reacted badly initially, but eventually she, too, healed her heart and moved on. She fell in love with a good man. Wisely, she told him her experience and they sought counsel before they married. They, too, have a good marriage.
The story of John, Melinda, and Sheila is neither unique nor rare. Sometimes the husband falls into limerence with another. Other times the wife. While the dynamics change slightly, the same principles apply. With the right help, their marriage can be saved and they can love each other more deeply than before.
We see it every day.
Joe Beam founded Beam Research Center, an organization that provides marriage help to hurting couples strengthen or save their marriage. Follow him on Facebook here. We would love to help your marriage, whether there is abuse, infidelity, or any other problem, please visit us at www.MarriageHelper.com, call us toll free at 866-903-0990, or email us at info@JoeBeam.com.
Publication date: December 14, 2012
Recently on Divorce and Remarriage
Have something to say about this article? Leave your comment via Facebook below!
advertise with us
Example: "Gen 1:1" "John 3" "Moses" "trust"
Advanced Search
Listen to Your Favorite Pastors