Crazy Ex-Girlfriends and Bitter Ex-Wives
Elisabeth Klein, Crosswalk.com Contributing Writer
Friday, February 21, 2014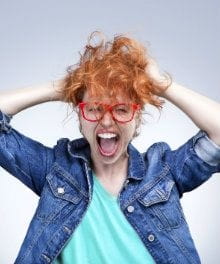 Yeah, I've been both.
I didn't grow up wanting to be either. It's not like it was a goal of mine or something on my to-do list to become this otherworldly, reactionary woman who shape-shifted based off the actions of her boyfriend or husband, but I did.
And I'm wondering, have you? Or more accurately, are you?
Are you, sweet girl deep down inside, currently a crazy ex-girlfriend?
Are you, dear woman whose heart is breaking, currently a bitter ex-wife?
Listen, you know I'm on your side. I will always be on your side. And I know that, more than likely, your boyfriend or your husband hurt you. And I know that, more than likely, he might still be hurting you even if you're not together anymore, or perhaps simply because you're not together anymore. And you're reacting to that hurt. I know.
I know that there is no pain like the pain of a love-relationship ending. I've had it happen five times, three with the same man. Nothing has torn my heart apart more than when the man I loved and I walked away from each other (or attempted to).
And in my pain, I have done some things I'm not proud of. I've eaten more chocolate than one little thing should eat. I've put my engagement ring back in a box, walked into a house, slammed it on a kitchen table and said, "I don't want this damn thing back until you know what the hell you're doing with me" (Not my finest hour). I've gotten in a car and driven towards Iowa, for no reason other than I didn't want to be in the same state for one more second. I've cried rivers of tears. I've written letters and emails that I never should've sent. You get the picture. I've been the crazy ex-girlfriend.
And I've been the sad ex-wife. The victim-y ex-wife. The pity-me ex-wife. The high-and-mighty ex-wife. The yelling ex-wife. The angry ex-wife. And I swung briefly for a time into bitter ex-wife. But, thank God, I didn't stay there.
Because here's what bitter-ex-wife-land consists of:
Rereading emails. And then rereading them some more.
Telling everyone within earshot of the most recent horrific thing your ex-husband did.
Being mean to your ex-husband in your head.
Being mean to your ex-husband in emails and texts.
Being mean to your ex-husband over the phone and in person.
Being mean to your ex-husband in front of or to your children (his children).
Becoming obsessed with what he's doing and not doing and what he's saying and not saying.
Possibly finding ways to numb your pain, that you will regret if you don't already.
Missing out on your life.
Again, oh my gosh, don't get me wrong. Your ex-husband hurt you and might still be hurting you. And your ex-husband may have hurt your children and might still be hurting your children. And you need to physically and emotionally protect yourself, and you need to physically and emotionally protect your children. You know that I get this (Y'all have no idea how much I get this). If your ex-husband is doing drugs or drinking and driving or is beating your children or you or breaking into your home or going against court orders, DO SOMETHING ABOUT IT. Protect yourself.
But if it looks different than that... Say, if he's moved in with the woman he left you for and that stings more than you can put into words. Or, say, he is behind on child support but it's because he's in between jobs and not because he's living this extravagant life and just trying to screw you over. Or, say, simply, he's moved on, and you haven't, and you can't stand the thought of how easily he seems to have forgotten you, how quickly he seemed to throw away your love. If it's that kind of thing, I want you to do me two favors. And I need you to trust me.
Recently on Divorce and Remarriage
Have something to say about this article? Leave your comment via Facebook below!
advertise with us
Example: "Gen 1:1" "John 3" "Moses" "trust"
Advanced Search
Listen to Your Favorite Pastors