When God's Answer is Not What We Expected
Deborah J. Thompson, Crosswalk.com Contributing Writer
Tuesday, November 22, 2011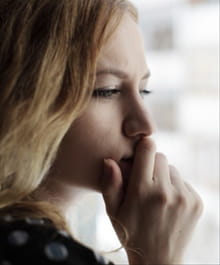 I was totally convinced that this was God's will, and all I needed to do was have enough faith, enough love, enough patience and enough courage to face whatever we had to do to put things back together.
The one thing I didn't take into account: My marriage not healing. And God allowing that to happen. My husband finally decided to file for a divorce.
This left me questioning everything I had ever believed about God's promises. How could He let ALL these things happen to me? How could He fail to save my marriage when His word seemed unmistakable? Was it all a lie? Could I believe anything else I ever read in that book?
I wrestled with these questions for a long time. And I finally began to understand that any one verse in the Bible can take years to fully comprehend, and even then, as fallible human beings, we run the risk of missing an important point. We tend to find a verse that seems to say what we need to hear.
"What God has joined together, let no man put asunder" was as clear as a bell to me—or so I thought.
But I started to realize that I was concentrating more on the latter part of that verse than the first. "What God has joined" seemed to be a given. We got married in the church—hadn't God "joined" us? Doesn't God "join" and bless ALL marriages? We like to believe that He does, and as Christians we work hard to honor our vows. But I now understand that there are times and circumstances when God may not have sanctioned a union to begin with.
He gave us free will, and we utilize it all the time to make decisions that He would not have made for us. The decision to marry a certain person at a certain point in time is because of our free will. Whether or not it was God's plan may be a mystery for some, particularly if we have not sought God's guidance as thoroughly as we should.
This is not to say that most struggling marriages are somehow outside God's will. And keeping to the vows we made out of our own free will and in front of God is very important. Certainly, there are terrible situations where one or both spouses breaks their vows against God's will. This happens far too often.
I tried to save my marriage more than I had ever tried to do anything in my life. My prayers were faithful and nearly constant. They were sincere and deep. They were connected to the Word of God. I even turned the mirror on myself to heal any issues that were preventing us from reconciling.
But it never happened. God did not choose to bless me with that gift.
But that doesn't mean He didn't bless me. And it doesn't mean that He didn't answer my prayers—the answer was just far different from the one that I was expecting.
Sometimes, the prayers that we think He doesn't answer become gifts far beyond what we want or think we need.
My "unanswered" prayer came in the form of the most amazingly wonderful gift—one I could never have imagined for myself. God sent me an incredible man -- one who has faithfully honored his vows to me for over 20 years. A husband who loves me unconditionally, who forgives my faults, who makes me feel loved and appreciated, and who leaves a note on the bathroom mirror every morning to make sure that I never lose sight of his love and the value of our marriage and our life together.
God did not answer my prayers all those years ago in the way that I thought He would, or in a way I was convinced at the time that I wanted. Nor did He answer them according to MY understanding of His promises in the Bible. And I learned that I could spend a lifetime trying to interpret His promises and still fall short.
But I have another choice—I can trust Him, even when the answer is not what I want to hear. God eventually healed my broken heart, my broken spirit and my broken body, but not the way I thought He would.
Deborah J. Thompson is a writer, speaker, artist, Stephen Minister and Stephen Leader. Her articles are published by Crosswalk.com and "The Fish" family of Christian radio station websites around the country. She shares "Reflections" on life, relationships and family on her website, www.inspiredreflections.info. She is working on her first book, Your Life, Your Choice -- 5 steps to Peace. Join her on Twitter/InspireReflect and Facebook/DailyInspiredReflections for daily devotions.
Recently on Divorce and Remarriage
Have something to say about this article? Leave your comment via Facebook below!
advertise with us
Example: "Gen 1:1" "John 3" "Moses" "trust"
Advanced Search
Listen to Your Favorite Pastors