Lost and Found Family
Danielle Ayers Jones, danielleayersjones.com
Friday, June 14, 2013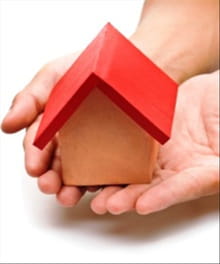 When it was discovered my dad was having an affair, the family unit I'd known for twenty-seven years was slowly torn apart.
Now what I once knew as my family no longer looks the same, feels the same, or is the same. It's felt like what I'd imagine losing a limb might feel like; first searing pain, then numbness, now an ever-persistent ache. At times, losing a parent to death would have seemed like a more welcome trial.
I've had to battle bitterness and unforgiveness like never before. But I've also experienced support from a family bigger than my physical family: the family of God. And more importantly, despite the faithlessness of my earthly father, God has been a faithful spiritual Father.
Losing Family
I'm glad the Bible gives us stories of people who have experienced the destruction of their families too. It usually makes me thankful my story isn't as bad as theirs! Take Job, for instance. In a single moment everyone—except his wife—was killed in one fatally catastrophic and seemingly freak accident.
Job has been an example to me as to how to respond to God when something dear has been taken away. Although he went through the natural process of grieving and mourning, he also:
Fell to the ground in worship and said: "Naked I came from my mother's womb, and naked I will depart. The LORD gave and the LORD has taken away; may the name of the LORD be praised."In all this, Job did not sin by charging God with wrongdoing. (Job 1:20-22)
Job's response seems pretty amazing to me. I know I've charged God with wrongdoing a few times and my life's losses don't compare to Job's.
The neat thing about the story of Job is that we get to know the "back story" that we probably won't ever know about in our life's story. We discover that the tragedies that befell Job were not some sort of cosmic punishment. Actually, the opposite was true. It was because he was so righteous that these disasters occurred. It was because Job was "blameless and upright" that Satan wanted to test and tempt him to betray God. But the good news is that all of Job's trials—although not necessarily caused by God—were in God's control. Nothing happened to Job that God didn't allow and place boundaries on. Likewise, it gives me comfort to know that everything that occurs to me has been sifted through the fingers of God and can be used by Him to mold me more into His image. He can take even the loss of family and turn it into something for my good.
Battling Bitterness
Although God can use our trials to make us more like Him, our response to our loss will have a lot to do with whether we're shaped more into His image or not.
One of the most common battles I've faced is bitterness. Bitterness can exist either towards God or other people. For me, it is towards my father. I can become bitter over the pain he's caused my mom, my siblings, and me. Or over the difficult financial situation he's put my mom in. I can become bitter imagining other families having joyful holidays while we have to decide how to split ours between four different parents (my husbands' parents are divorced as well). Or maybe when trying to pick out a Father's Day card that just says "Happy Father's Day" without all the praise of what a wonderful example he's been to me.
The week before Father's Day this year I was confronted with Ephesians 4, which tells me to put on a "new self" by getting "rid of all bitterness" (Ephesians 4:31). I was convicted and with the Holy Spirit's help sought repentance and a heart change. As my father and I met for Father's Day, I can honestly say I didn't struggle with bitterness this time. A small battle in the war against bitterness was won.
Recently on Divorce and Remarriage
Have something to say about this article? Leave your comment via Facebook below!
advertise with us
Example: "Gen 1:1" "John 3" "Moses" "trust"
Advanced Search
Listen to Your Favorite Pastors