Respect Him? Really?
Elisabeth Klein, Crosswalk.com Contributing Writer
Friday, October 26, 2012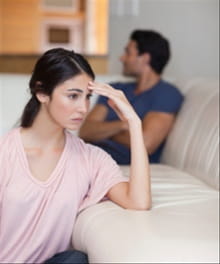 Know your reality. There are times when a husband can be in such a state of sin that he has abdicated his role as leader of your family. I believe you will know when that is. If your husband is asking you to do something that conflicts with Scripture, I believe you are to place God's will over your husband's will. I was asked once to start practicing the Sabbath on a weekday so my kids wouldn't see me doing it, so they'd still be free to do chores on Sunday. I believed this was in violation of what God was wanting me to do for myself and as a parent, so I didn't follow that directive. However, if what you're being asked to do isn't in violation with God, even if your spouse is not acting as leader with his life's choices, I believe that with prayer and getting some wise counsel, you can freely and clearly follow what he's asking of you, knowing that your Maker is your true husband.
Remember God's sovereignty. I've mentioned this before, but it was so life-altering for me that I keep coming back to it. One time after a difficult family decision was made that I didn't agree with and that broke my heart, I felt God remind me that if I actually felt this sad decision could thwart God's plan for me and my family, I was giving the human decision-maker too much credit and God not enough. God's will will prevail, regardless of who's in human charge.
This isn't an easy topic. It will take prayer, much thought, and getting insight from other wives (preferably those also in difficult marriages who understand the unique dynamic), but I believe God will give you a special measure of discernment and strength to do what he's asking you to do, despite how you're feeling or where you find yourself in your marriage.
This article appeared originally on ElisabethCorcoran.blogspot.com on September 25, 2012. Used with permission.
Elisabeth K. Corcoran is mom to Sara (15-1/2) and Jack (14). She loves spending time with her kids, her friends, reading and writing. She is the author of At the Corner of Broken & Love: Where God Meets Us in the Everyday; One Girl, Third World: One Woman's Journey into Social Justice; He Is Just That Into You: Stories of a Faithful God who Pursues, Engages, and Has No Fear of Commitment; In Search of Calm: Renewal for a Mother's Heart; and Calm in My Chaos: Encouragement for a Mom's Weary Soul. All these books can be purchased on Amazon.com in paperback or Kindle.
Visit her website at www.elisabethcorcoran.com and her blog.
You can follow her on Twitter at ekcorcoran or friend her on Facebook.
If you are in a difficult marriage or find yourself going through a difficult divorce, I have created two private groups on Facebook that I would like to invite you to. Simply email me at elisabethkcorcoran@gmail.com, let me know if you're interested in the married group or separated/divorced group, then send me a friend request on Facebook. If you're in need of some encouragement, I invite you to join us.
Elisabeth is a proud Member of Redbud Writers Guild.
Publication date: October 26, 2012
Recently on Divorce and Remarriage
Have something to say about this article? Leave your comment via Facebook below!
advertise with us
Example: "Gen 1:1" "John 3" "Moses" "trust"
Advanced Search
Listen to Your Favorite Pastors