Should Couples Stay Together for the Kids?
Joe Beam, LovePath International
Thursday, March 08, 2012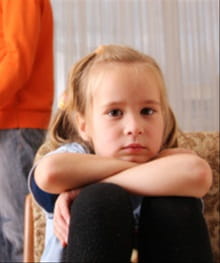 It isn't unusual to overhear conversations like this. One lady told another that she should not stay in her marriage for the sake of her children. She offered the usual:
Make yourself happy. Why should you be punished to stay with that guy just because he fathered your children? Over time the kids will be better off.
She added more but these generally covered the subject.
In those conversations, certain facts get left out, and those facts typically deal with the children's perspectives. Consider the indications of scientific research.
Divorce can affect children for years, well into adulthood.
In 2006, Family Process published a scholarly article by Ahrons. She wrote about binuclear families -- extended families, separate households that result from divorced spouses marrying someone else, as well as the families formed by their children when they eventually marry.
Of the negative consequences, she wrote,
"…173 grown children were interviewed 20 years after their parents' divorce…The findings show that the parental subsystem continues to impact the binuclear family 20 years after marital disruption by exerting a strong influence on the quality of relationships within the family system…Of those who experienced the remarriage of both of their parents, two thirds reported that their father's remarriage was more stressful than their mother's. When children's relationships with their fathers deteriorated after divorce, their relationships with their paternal grandparents, stepmother, and step siblings were distant, negative, or nonexistent."
Divorce can cause children pain, stress, and confusion.
A 2003 article published in Childhood examines the short-term strain divorce has on children. Though the author, Kelley, primarily encourages researchers to focus on developing healthy lives for children of divorce rather than lamenting the potential problems, she pointedly wrote about the pain most children feel.
"Independent of the long-term consequences of divorce, the initial period following separation is quite stressful for the vast majority of children and adolescents, as they seem to have little emotional preparation for their parents' separation, and react with distress, anxiety, anger, shock and disbelief."
She did offer this exception, "Only those youngsters who witnessed or participated in high conflict and violence appeared to be notably relieved at the separation."
As one who works with marriages, I agree that violent marriages should not stay together, especially for the safety of the children, as well as one or both spouses. However, most who divorce aren't doing so for their children's safety. Most, in my experience, focus on what they want and feel, and rationalize how that will be best for their children.
Divorcing couples are often blind to the emotional needs or wants of their children.
A few years ago, I worked with a couple who adopted several handicapped children. Their love for children led them to make the sacrifices they knew would be required of both husband and wife to raise those children to adulthood. Carefully, deliberately, and prayerfully they consciously thought through the entire process and together decided it was the right thing to do.
That worked fine for a few years. Then he fell in love with someone else. His intensity of passion for the new relationship did more than provide him the emotional rationalization to leave his wife. It provided him enough motivation to leave his wife to take care of those handicapped children. He claimed to love them, but when I asked if he loved them enough to stay with them and give them what they needed, he replied that he had to follow his heart and leave with his lover. When I pursued the conservation by asking what happened to his well-thought-out commitment that led to adopting those children, he shrugged. "Things change."
Recently on Divorce and Remarriage
Have something to say about this article? Leave your comment via Facebook below!
advertise with us
Example: "Gen 1:1" "John 3" "Moses" "trust"
Advanced Search
Listen to Your Favorite Pastors