The Unfaithful Spouse: Should I Divorce or Try to Reconcile?
Joe Beam, President, Marriage Helper
Friday, September 28, 2012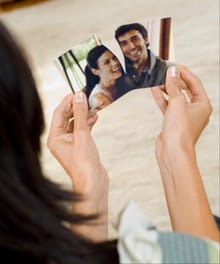 If you could rescue your marriage and make it good again, what could be the consequences to you, your children, and your spouse in 10 minutes, in 10 months, and in 10 years? On the other hand, if you divorce your spouse, what might be the consequences in 10-10-10?
Our experience with thousands of marriages indicate that if a couple can work out their difficulties, learn to forgive, create the right boundaries to prevent future problems, and do the things that make love grow, the marriage will be stronger after the affair than it was before the affair. No, the affair did not make it stronger. The "wake up call" and the subsequent building of a solid relationship made it stronger.
In considering 10-10-10, realize that being divorced does not automatically guarantee finding a new mate. Forgiving and reconciling can lead to a better marriage than before. Divorcing leads to being alone if you do not find another mate.
Even if you do find another mate, that relationship also has risks. Every relationship does.
When considering 10-10-10 in making your decision to reconcile or divorce, think of the effect on your children in ten years. Children do better when they grow up with their biological parents. Additionally, holidays, seating and honors at your children's weddings, potential half-siblings, and many other matters will become part of their lives as well as yours if either you or your mate marry someone else.
Divorce or reconciliation both have consequences now, in a few months, and in the years to come. Think carefully about whether to end the relationship now or to risk another try at making it work well.
Fifth, seek the proper help
If you think you may reconcile, find the right help. Forgiving and reconciling do not happen naturally.
Help in Understanding How It Happened
It requires understanding how the infidelity occurred so that boundaries can be set to prevent it ever occurring again. Sometimes gaining that understanding causes pain in both the betrayer and the betrayed. Realizing why your spouse developed an emotional bond with another person can be extremely painful. Beyond that, you may face your own flaws if you happen to discover any unwitting contributions you made to situations that opened the possibility of unfaithfulness. That does not mean that you take responsibility for your spouse's adultery, but that you recognize any of your marital imperfections.
Help in Putting the Marriage Back Together
Deciding not to divorce requires understanding how to forgive and reconcile. Reconciliation occurs in phases. It starts as a decision and, if done well, develops into an emotion. Learning how to make the decisions involved in the reconciliation process and knowing how to evaluate the process as it happens is very important.
Ultimately, the goal is not to reconcile for the sake of reconciliation, but to learn to love deeply.
There are many professionals who can help you through deciding whether to reconcile, and then, if you wish, to actually accomplish the reconciliation. They can help you love again and have a better marriage than you had.
If we can help, please call us toll free at 866-903-0990 or click here. If you prefer help from someone else, that is fine. HOWEVER, GET THE HELP you need before your emotions lead you astray.
Joe Beam is a best-selling author and chairman of Beam Research Center, an organization that provides marriage help to hurting couples. For more information on his workshop that saves troubled marriages that are in danger of divorce, click here.
Publication date: September 28, 2012
Recently on Divorce and Remarriage
Have something to say about this article? Leave your comment via Facebook below!
advertise with us
Example: "Gen 1:1" "John 3" "Moses" "trust"
Advanced Search
Listen to Your Favorite Pastors