The Unraveling of a Christian Marriage: 3 Common Questions
Elisabeth Klein, Crosswalk.com Contributing Writer
Monday, October 31, 2011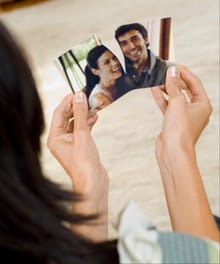 This cannot possibly be what God had in mind for a Christian marriage, I would write in my journal time and again.
I filled in the gaping holes of my emotional life by pouring myself out into raising my children, writing books, starting a speaking ministry, and beginning the women's ministry at my church, which I would go on to lead for ten years feeling like a hypocrite all the while. My life was full. I looked the part of the fulfilled (read: busy) Christian woman, wife, mother and servant, except for my dirty little secret… that my marriage was disintegrating. I was desperately sad and lonely almost all the time, and nothing I did to fix it was working.
Add to that, I felt trapped by my faith. I would beg God to help me and heal us, and it would feel like he wasn't. And yet, in my heart I felt that to walk away from my marriage would be to disobey him, to fail him, to be in sin.
A fairly standard belief in Christian circles is that there are only two biblical reasons for divorce: if your spouse is unfaithful and if your spouse is not a believer and he abandons you.
My situation did not fit those criteria. I was stuck. So I resigned myself to make the best of the next fifty years. I would stay married for the rest of my life, and I would simply try to fill up my life the best I could and serve others and change the world and raise my kids and write some books and having a good marriage is overrated anyway.
In January of 2010, I took the bull by the horns, finally tired of my own pity party, and visited a new counselor with the express purpose of working on my anger. I don't want my children to think of me as an angry woman, I told her. I explained my life circumstances, told her they wouldn't be changing, so I needed her to teach me to not be angry all the time.
But that next month something changed in me through two pivotal conversations.
The first was with that counselor who introduced me to the Power & Control Wheel, and I quickly discovered that our relationship had been largely tainted by many forms of emotional abuse. This was brand new information for me. I felt like a fool, and yet I felt free all at the same time, watching pieces fall together in a way that finally made sense to me.
The second conversation was made up of one sentence that sealed my heart's door firmly shut, even if I didn't notice the depth of its impact at the time. I had felt it was time to tell our pre-teen children about their father's drinking. One, I felt they needed to know it was genetic and they should stay away from alcohol; two, they were at the age that Alateen would be available to them if they wanted to try it; and three, they needed the tools to know they could choose not to get into a car with their father if he had been drinking. When I told my husband it was time, he said that if I told the kids about his drinking, going against his wishes, he threatened me. Though he was not threatening me physically, he broke me that day. He broke us.
If I have given the impression for even one moment that my husband was one hundred percent at fault for the brokenness we endured, I apologize. I was a broken little girl who more than likely had no business getting married in the first place and I hurt him in myriad ways every day of our marriage. I was not empathetic, I was not a support. I did not call out his dreams. I sat on the sidelines and cried and whined and criticized, more than I want to admit. Our marriage broke because we were both broken, bottomline.
In part two of this four-part series, I answer the question, "As a Christian, why did you stay so long?"
In part three I answer, "As a Christian, how did you stay in your hard marriage so long?"
In the final installment of this four-part series, I answer the question, "As a Christian, why aren't you staying forever?"
(c) Copyright Elisabeth K. Corcoran, 2011
Elisabeth is the author of At the Corner of Broken & Love: Where God Meets Us in the Everyday; One Girl, Third World: One Woman's Journey into Social Justice (Kindle); He Is Just That Into You: Stories of a Faithful God who Pursues, Engages, and Has No Fear of Commitment (WinePress), In Search of Calm: Renewal for a Mother's Heart (Xulon), and Calm in My Chaos: Encouragement for a Mom's Weary Soul (Kregel).
Visit her blog here or watch Elisabeth and her friends spread hope through Africa with Samaritan's Purse.
Elisabeth is a proud member of the Redbud Writers' Guild.
Recently on Divorce and Remarriage
Have something to say about this article? Leave your comment via Facebook below!
advertise with us
Example: "Gen 1:1" "John 3" "Moses" "trust"
Advanced Search
Listen to Your Favorite Pastors