The Unraveling of a Christian Marriage: Why I'm Not Staying Forever
Elisabeth Klein, Crosswalk.com Contributing Writer
Saturday, November 12, 2011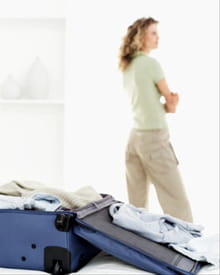 My church leadership released me to legally separate. This one is key. I went to church leadership begging for help as my last resort. We were referred to a new couples' counselor and a mentor couple. We walked this road with our elder and campus pastor. We were each given a lengthy list of things to do to move toward reconciliation. My plea for a temporary separation was backed up as they felt things were just too volatile for us to remain under one roof while trying to put things back together. But when assessed at the end of about fifteen months, the unanimous decision was that I had done all I had been asked to do and my husband had not. They told me I was released from pursuing reconciliation and that the ball was one hundred percent in my husband's court to save our marriage. They then released me to legal separation which I pursued. I must say here that had my church leadership not released me to legally separate, I have absolutely no idea where I would be today. If I had to guess though, I believe I'd still be married and miserable and nowhere near on the road to emotional health. I believe I would not have wanted to go against the wishes and guidance of my church leadership because of my high respect for their wisdom and love for God. I am not staying forever because they did release me, so I moved forward.
I know I did all that I was asked to do. Staying this long has its benefits. The main one being that I know that I know that I know that I did every single thing I was ever told to do to attempt to save my marriage, and it wasn't enough. It takes two. I can hold my head high saying and believing that I spent almost eighteen years trying to turn this thing around. I am not staying forever because I did all I could.
My husband counter-filed with a divorce. This was a surprise, I must say. When one person files a legal petition, the other party must counter-file or submit a response. My husband told me that he interviewed three attorneys and no one would represent him in a legal separation proceeding. He told me that he didn't want to keep interviewing attorneys. And he told me that I was indirectly forcing him to divorce me. I hadn't seen this coming. But in retrospect, I believe it was God's provision of fully releasing for me without me having to be the one to initiate the divorce. I am not staying forever because my husband is divorcing me.
I felt released. I read somewhere that man can release you from a relationship, but only God can release you from a covenant. Months ago, I felt Jesus say to me in my spirit, "Release is coming. It's going to get harder before it gets better. But it's coming. Keep your eyes on me, baby." And that has all come to pass. It has gotten harder and uglier and messier, more so than I ever imagined. But release is coming and my eyes have stayed on Jesus. I am not staying forever because Jesus released me.
So bottomline, I am not staying forever because of God.
I am so very aware that my words could possibly be the catalyst for someone to get help, which I find huge satisfaction in. But I'm cognizant that someone else might read these words, attempt to apply them to their situation, and think I've just given them permission to leave their marriage.
So as I wrap up these thoughts, I cannot stress these things enough:
I believe in God.
I believe God created marriage as a covenant to last for the lifetime of the couple.
I believe God created marriage as a breathtaking picture of how Christ loves his church.
I believe God allows marriages to end when certain sins are committed.
I believe the Church is in place to protect and guide individuals and families in dark, confusing situations.
I believe God would have wanted my marriage to be healthy and remain intact.
I believe all marriages can be saved.
I believe God gives us free will.
I believe God is bringing about a different kind of miracle in my family – one of healing and resurrection and joy on the other side and reaching out to others with the comfort we have received.
I believe no one should walk away from their marriage without first getting as much help as they possibly can and trying their absolute hardest to keep it together.
But I believe, when it all comes down, only you and God can know what you need to do.
May God bless you and keep you as you walk out your relationships in his light and with his love.
(c) Copyright Elisabeth K. Corcoran, 2011
Elisabeth is the author of At the Corner of Broken & Love: Where God Meets Us in the Everyday; One Girl, Third World: One Woman's Journey into Social Justice (Kindle); He Is Just That Into You: Stories of a Faithful God who Pursues, Engages, and Has No Fear of Commitment (WinePress), In Search of Calm: Renewal for a Mother's Heart (Xulon), and Calm in My Chaos: Encouragement for a Mom's Weary Soul (Kregel).
Visit her blog here or watch Elisabeth and her friends spread hope through Africa with Samaritan's Purse.
Elisabeth is a proud member of the Redbud Writers' Guild.
Recently on Divorce and Remarriage
Have something to say about this article? Leave your comment via Facebook below!
advertise with us
Example: "Gen 1:1" "John 3" "Moses" "trust"
Advanced Search
Listen to Your Favorite Pastors