Don't Run from the Storms In Your Marriage
Betsy St. Amant with Sarah Jennings, Contributing Writer / Family Editor
Monday, May 15, 2006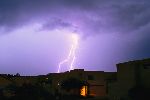 "April showers bring May flowers." According to the New Dictionary of Cultural Literacy, this phrase means "some unpleasant occurrences bring about better things." This is a good outlook for any aspect of life, especially marriage.
There are times when my husband and I argue, and boy, does it seem like a downpour! But after the cooling off period, tenderness and love blooms. Arguments can lead to a new understanding of each other's feelings. When we get past the harsh words we didn't mean to say and wade through the misunderstandings to get to the root of the problem at hand, the conflict often reveals deep insight into your spouse's heart and mind – a consequential flower.
May flowers may not seem worth the trouble of the April showers. You might feel that you want to skip that part and just enjoy the sun and beauty around you now without having to wait for the rain to pass. But skipping the rain makes the flowers seem dull. With only sunshine and no rain, the flowers dry up and burn.
Weathering the Storm
Yet how do we keep from drowning in the rainstorms of marriage? The storm threatens to pull you under, but you have to keep treading water. If God is in the center of your marriage, eventually the waters will recede and produce fruit. Looking forward to that fruit can help us persevere when the storm is darkest.
As difficult as the trials may be in your marriage, without rain, your relationship will wither away like sun-cooked flowers. Your marriage is not meant to be a static, never-changing situation. Instead, marriage is one of God's primary ways of drawing you and your spouse closer to Him. The rain (or sometimes fire) is God's way of refining each of you so that you more accurately reflect His image and answer His high call to love one another as He loves us (John 13:34). The apostle Peter speaks of the value of trials in refining us:
In this you greatly rejoice, though now for a little while you may have had to suffer grief in all kinds of trials. These have come so that your faith -- of greater worth than gold, which perishes even though refined by fire -- may be proved genuine and may result in praise, glory and honor when Jesus Christ is revealed. Though you have not seen him, you love him; and even though you do not see him now, you believe in him and are filled with an inexpressible and glorious joy, for you are receiving the goal of your faith, the salvation of your souls. (1 Peter 1:6-9, emphasis added)
Marriage in particular is an opportunity to draw us closer to God, because He frequently uses those closest to us to refine us. "As iron sharpens iron, so one man sharpens another."(Proverbs 27:17-17) In the midst of our troubles, we can also take comfort in knowing that strife, conflict, and trials played key roles in Christ's love for His Bride - the Church - so it is okay if our marriages are not always easy and carefree.
Our trials don't just produce spiritual fruit -- hard times are what help draw you together and cement your love and commitment to each other. How many times have you seen a family, a sports team, or a married couple overcome odds to come out on the other end with an even greater level of intimacy? The victories over life's challenges weave the special love story between you and your spouse that, years from now, will hopefully have you looking back with joy at the journey you've traveled together. We all wish to live on Easy Street, but without conflict or hardship your marriage would fail to flower into its full potential:
Have something to say about this article? Leave your comment via Facebook below!
advertise with us
Example: "Gen 1:1" "John 3" "Moses" "trust"
Advanced Search
Listen to Your Favorite Pastors