7 Thoughts that Will Change Your Marriage
Sheila Wray Gregoire, To love, Honor and Vacuum
Wednesday, May 01, 2013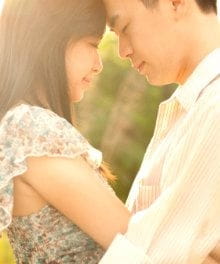 Today I want to share with you 7 thoughts that, if we really understood them, could transform your marriage.
1. God is your Father-in-Law
We like to think of God as our Father, our Daddy, our Abba. That's all very true. God is our Father, and He does love us, and care for us, and listen to our prayers, and want the best for us. He is going to bat for us.
But do you realize that God is also our Father-in-law?
He's also your husband's Father. And that means that He really cares about your husband, and He really loves your husband, and He listens to your husband's heart cry as well. I imagine that one day, I'm going to stand before God, and He's going to gently talk to me about Keith. He'll say, "what did you do to care for my son? How did you love my son?"
I so desperately hope that God will be pleased with the way I treated His son.
I once read a quote from author Sally Clarkson, who asked, "what if the greatest act of worship you could do today is to love your husband?" And it very well could be. God loves your husband, and He planned for your husband to have someone to help him, to encourage him, to inspire him, to love him. God wants someone to appreciate your husband, and to urge him on in faith and in love. And that someone, that He has especially prepared for the task, is you.
2. I Can't Change Him; I Can Only Change Me.
Has this thought ever entered your head: "I'd be happy if only he'd…" or "I'll be happy as soon as he…." If you can fill in the blank, you may have a problem.
What you're really saying is, "I won't be happy until he…." You're making a decision to place your happiness and your sense of peace outside of yourself and into someone else's hands. You're waiting for him to change.
The problem with that is that you can't make anybody else change. Magazine covers don't believe this; they're filled with articles like, "7 Ways to Make Your Man More Romantic" or "How To Get Him to Help Around the House" or whatever else it may be. They're focusing on you making him into the kind of person you want to be.
But that attitude is poison for a marriage. When you give your husband the idea: " you are making me unsatisfied. You are failing me," he will tend to retreat. He'd rather do things in his area of competence.
What if you're really unhappy with the way things are? I understand. But nagging and withholding affection and becoming bitter cannot bring about positive change in a marriage. Here's what can: changing yourself. You can change how you choose to react to him. You can change how you organize the house if you feel that too much is being asked of you. You can get more hobbies if you find yourself relying too much on your husband for adult conversation. (I cover all of this, and more, in my book To Love, Honor and Vacuum).
When you change, you also change the dynamic in the marriage, and that, in and of itself, may bring change in how he reacts to you, too. But insisting that he become someone else will only make you miserable.
3. What if Marriage is Meant for Holiness more than Happiness?
When you walked down that aisle, chances are you were thinking, "this is the man who will make me happy for the rest of my life." That's why we get married! We find someone that we feel happy with.
Recently on Engagement & Newlyweds
Have something to say about this article? Leave your comment via Facebook below!
advertise with us
Example: "Gen 1:1" "John 3" "Moses" "trust"
Advanced Search
Listen to Your Favorite Pastors