7 Thoughts that Will Change Your Marriage
Sheila Wray Gregoire, To love, Honor and Vacuum
Wednesday, May 01, 2013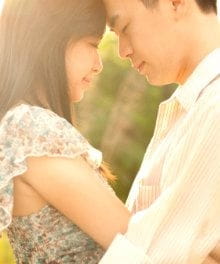 What happens, though, when you've been married for a while and you find you have different ideas on how to spend your free time, or your money? You have different ideas on showing each other love, on what sex means, or on how much you each should do around the house. And you feel unloved and unappreciated.
Does that mean the marriage is bad? Absolutely not! That's quite natural. We all have different expectations going into marriage. But perhaps God didn't make marriage to make us happy; as Gary Thomas says in Sacred Marriage, maybe it's God's best vehicle to make us holy. For a marriage to work, we each need to meet the other person's needs. As we do that, the marriage becomes stronger, we become better people, and you may just find that happiness after all.
4. You will Never Drift Together; You will Only Ever Drift Apart.
A few years ago I read about an experiment off of the coast of Brazil. They dropped two bottles into the ocean off of a boat at exactly the same time. The bottles had messages in them–contact this phone number for a reward. One bottle washed up on the coast of Ecuador 100 days later (it went north west). The other bottle went across the Atlantic Ocean, around Africa, and washed up on Tanzania a year later. They started in the same place; they ended up half a world way.
We work the same way. Unless we consciously try to stay close together, we will drift. Drifting is natural; if you want to stop the drift, you have to be intentional.
Most couples stop doing things together as soon as they're married. Don't. Now's the time that you have to be even more intentional about staying close. Do things together–anything–everyday. Make sure you laugh. Find hobbies. Talk. Just be together, or you will find yourselves half a world apart without even realizing how it happened.
5. The Marriage Comes Before the Kids.
As soon as children are born they take so much of our attention and energy. They're needy, they're demanding, and they're ever so lovable. But don't ever make the mistake of prioritizing them over the marriage.
The fact that you have kids means that your marriage matters more, not less, because now other people are counting on you. And what kids need more than anything else is stability. When their parents' relationship is strong, they are free to grow, and explore, and learn without worry.
Your children are only given to you for a time, and yes, you have to love them. But the marriage relationship is the one that will endure until death. Children will move on; you sure don't want your spouse to. So nurture the marriage first, even once kids come. It's important–especially to them.
6. If You Win a Battle, You Often Lose the War.
Here's one I still struggle with: I like to win fights. I think at heart it's because I have rejection issues, and if Keith is upset at me, my goal is to prove to him why he's completely and totally wrong. After all, if he sees that he has no reason to be upset, then why would he leave? (For the record, Keith would never leave, but I think this is what goes on in my subconscious).
I'm also a very good debater. I listen really well during fights–but I listen for loopholes so that I can blow his argument to shreds. It doesn't matter if he's just talking about how he feels; I can prove he's wrong.
For the first few years I'm sure I won every fight. But it didn't seem to be working. Keith was retreating inside himself, and I couldn't hear his heart anymore. And over the years I've learned that you can win the battle but lose the war. When you keep winning, you sometimes drive someone away, because if one person wins and one person loses, you both lose. A relationship is about two people feeling loved, appreciated, and accepted. If you constantly push down someone's feelings, you're destroying that relationship–even if technically you are in the right.
Recently on Engagement & Newlyweds
Have something to say about this article? Leave your comment via Facebook below!
advertise with us
Example: "Gen 1:1" "John 3" "Moses" "trust"
Advanced Search
Listen to Your Favorite Pastors