7 Thoughts that Will Change Your Marriage
Sheila Wray Gregoire, To love, Honor and Vacuum
Wednesday, May 01, 2013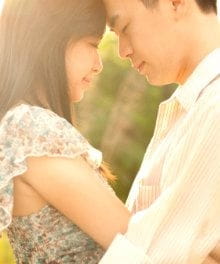 So now I've learned sometimes just to listen and acknowledge his feelings, and then just shut up. I've learned that we need to find the win-win, not the win-lose.
7. I Can Determine My Thoughts
Did you know we aren't slave to our thoughts? We can change them.
During my pregnancy with our second child we found out that he had a severe heart defect (he later passed away at a month of age). All through that pregnancy I was a wreck. Someone, I can't even remember who now, suggested that I start a gratitude journal, writing five things that I was thankful for everyday, even if that day was bad.
And I did.
I even wrote it when Christopher was in the hospital. Here's one day:
Feeding Christopher. Getting to hold him, away from the tubes, and give him his bottle. His eyes opened while he ate!
Becca wanting to cuddle that night
A beautiful sunset as we were walking home
The way Christopher fought the nurse when she tried to give him his medicine. He hates it! I love that he shows spunk
Having a friend drop off spaghetti for us
He went into surgery three days later. Those were some of the hardest days of my life, and yet everyday I focused on what to be grateful for, because I knew at the end of the day I'd have to make a list. And so I found myself searching for things to be grateful for. In fact, most days I remember having to choose the five best, not search for five, because I had spent the day trying to think of little blessings.
Marriage works the same way. When you are looking for things to praise, you will find things to praise. When you are looking for things to be grateful for, you will find things to be grateful for. So if you've been in a funk, always noticing the negative, let me give you this challenge: everyday, tell your husband one thing that you're thankful for about him. And write down five. (you can tell him all five if you want!). But make it a practice to be grateful, and you will find your attitude changing.
There you go: seven thoughts that will change a marriage. There's so much more, of course, that goes into a great marriage, and I've written a ton about sex and conflict resolution and friendship and more. But our thoughts determine our actions. Get our thoughts in line, and it's easier for those other things to also fall into place!
Post first published at To Love, Honor and Vacuum. Used with permission.
Sheila Wray Gregoire is a marriage blogger, speaker, writer, and mom. The author of seven books, including The Good Girl's Guide to Great Sex, she loves encouraging women to strive for the kind of real intimacy in marriage that God designed. When she's not blogging at To Love, Honor and Vacuum, you can find her on Facebook, Twitter, and Pinterest!
Publication date: May 1, 2013
Recently on Engagement & Newlyweds
Have something to say about this article? Leave your comment via Facebook below!
advertise with us
Example: "Gen 1:1" "John 3" "Moses" "trust"
Advanced Search
Listen to Your Favorite Pastors