5 Marriage Myths That Will Steal Your Joy (If You Let Them!)
Heidi St. John, Home Educating Family Magazine
Wednesday, June 18, 2014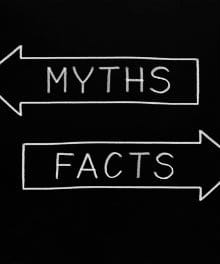 The Lord intended your marriage to be a source of joy, comfort, and encouragement, but for all too many couples, marriage has become at best a lifeless working partnership and at worst just another to-do list task that saps strength and life from lives rather than filling us with strength and joy. You can experience the joy God intended for you and your husband if you know the five myths that can undermine your marriage. Study them. Remember them. Refuse to let them take root in your home. Guard your joy!
Five Myths
1. Being a Parent Comes First
This is a huge trap that many couples fall into. Homeschooling moms are especially prone to child-centered parenting—after all, we spend so much time educating the kids that it can sure feel like they're the first priority. God says that the marriage is the priority relationship in the home. When we believe the myth that "children come first," we set our children up for huge disappointment later in life.
Over the years I've met many moms who have sacrificed their marriage on the altar of homeschooling. I'm here to tell you, it's not worth it. You see, as parents, you are the primary defense for your children in this very real spiritual battle we've been talking about. Satan knows if he can take out your marriage, he has a better shot at your kids.
Protect your marriage, precious mom! Guard it with your life. Your children will thank you for it. And your husband won't mind either!
2. The Myth of Parallel Living

What do two parallel lines never do? That's right! They never cross. They don't touch. They just keep on going, side by side, for as long as the line can go.
In 2009 I wrote a book titled The Busy Homeschool Mom's Guide to Romance, and one of the key purposes of the book was to help wives learn to see the all-too-common way many live their marriages out. It's easy to get caught up in the oh-so-daily "he does his thing, I do mine" mentality.
But what happens if you put the tiniest degree of separation between these two parallel lines? Before you know it, there is a chasm that is too wide to bridge. Marriages suffer when we live parallel lives.
So what can we do?
Purpose to live the opposite kind of life with your husband. Live entwined lives instead of parallel lives. Draw those lines in toward each other through shared dreams and purposeful interaction. Spend time alone together. Nurture emotional and sexual intimacy in your marriage. Pursue the Lord together.
Your marriage should look like that cord of three strands that Solomon talks about in Ecclesiastes 4:12: "...A threefold cord is not quickly broken." Unlike parallel lines, this "cord" of three strands winds itself tightly together: a husband, a wife, and the Lord Jesus.
Entwined marriages are built to last.
3. Your spouse can make you truly happy.
Well, if you have been married for very long, you have figured out that this is a myth. Funny thing about it, though—even though we know in our minds that this is true, we place this "happiness burden" on our husbands in many ways. It's a burden neither spouse was designed to carry.
We're unhappy with the amount of time he spends at work.
We complain about his lack of interaction with the children.
We wish he would show more of an interest in our homeschool.
It's sneaky, this one. Even though we know that our happiness does not depend on him, we can easily look to him for it. As Christians, we know where our hope and happiness is found. It comes from a growing relationship with the Lord. Spend time with the Lord, precious mom. Allow him to meet with you every morning. Ask him to fill you up. He can, and he will.
Recently on Engagement & Newlyweds
Have something to say about this article? Leave your comment via Facebook below!
advertise with us
Example: "Gen 1:1" "John 3" "Moses" "trust"
Advanced Search
Listen to Your Favorite Pastors